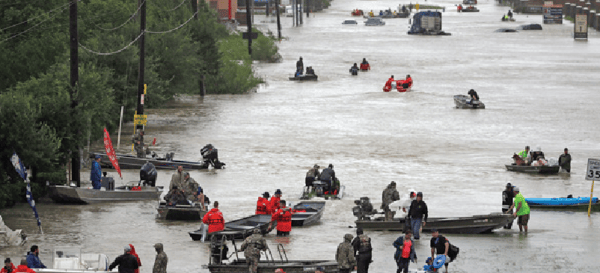 Houston: Leading by Example.
By Bill Kaiser, Senior Consultant
I\'m in the culture biz. Working with CEOs to help transform individuals and organizations by defining and leveraging their one true sustainable differentiation – culture. You all receive a blog from HPC every 2 weeks. We rotate the responsibility of writing these between four of us. So, every 8 weeks, it\'s my turn to share insights, and lessons learned, to ultimately help our readers achieve greater performance in their organizations by being much more intentional about defining, building, and leveraging their culture.
Not this week.
This week I feel compelled to chart a different course. The disaster of Hurricane Harvey and the unbelievable devastation left in his wake, continues to consume my thoughts. I debated writing about my observations for fear of being accused of sensationalizing the tragedy or piggy-backing on the heels of such sadness. But after seeing countless stories on the rescues and recovery efforts, my paranoia subsided.
If you look for the good, you\'ll find it
We\'ve all seen too many horrific domestic and international incidents of late. But through the darkness and despair, I\'m continually amazed and inspired by how the human spirit, once again, continues to triumph. In this particular battle with Mother Nature, those closest to the tragedy continue to cradle hope and mount their comeback. Martin Luther King, Jr. reminded us of this spirit, when he said,
"The ultimate measure of a man is not where he stands in moments of comfort and convenience,
but where he stands at times of challenge and controversy."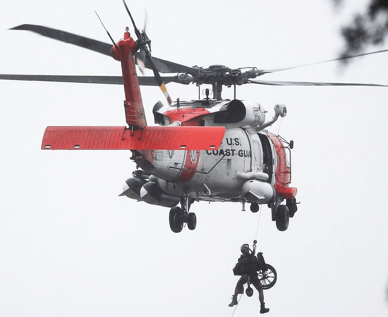 I admit to a pet peeve with how I believe society gives too much attention to celebrities, whether they\'ve achieved their fame via entertainment, politics, business, or sports. I\'m cynical (I know, I\'m not doing a good job of applying our Fundamental of Assuming Positive Intent) when I see people jockeying for the spotlight. That being said, I\'ve been blown away with how this community has rallied and supported Houston. How about J.J. Watt, arguably the best defensive lineman in the NFL, and member of the Houston Texans? He decided to leverage his celebrity and raise money for Hurricane Harvey victims. He grabbed his cell phone, posted a video requesting donations – with a goal of raising $200,000 – and as of this writing, had raised over $18,000,000. Some would say, he\'s done enough, but J.J. was out in the streets helping to distribute food, water, and supplies last week. What a great example of stepping up, and doing what\'s needed, when faced with a seemingly insurmountable challenge and crisis.
Houston stands tall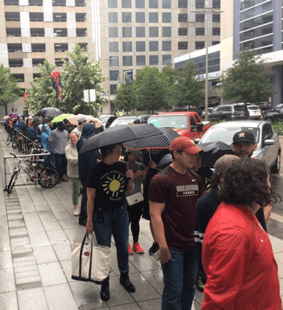 This picture says it all. At first glance we assume the line has formed for food, shelter, and/or supplies. Then, upon further review, we learn that the line wrapping around the block, is a line of volunteers . . . ready to help and assist those in great need!
Some will or have contributed money, time, or supplies. Many have prayed and will continue to offer spiritual help. At a minimum, we all can learn from this. We need each other. We need to help each other and expect nothing in return. When the "you know what" hits the fan, we don\'t buckle, we run to the problem and do whatever we can to help. We take risks, we leverage what we can, and we carry on. If you have any doubts, just watch what Houston is doing.
Questions or comments? Give us a call or shoot us an email. Or consider joining us and other leaders for Culture Summit 2017.