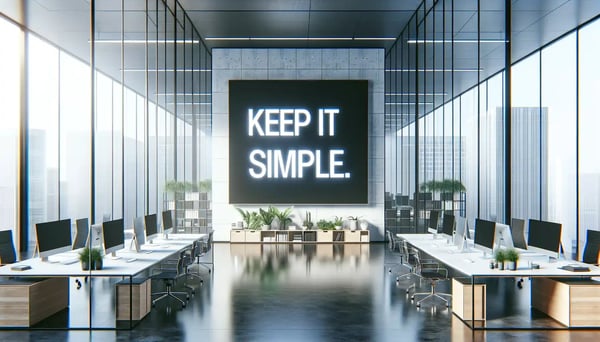 Keep It Simple: Being Easy to Work With Should Be Part of Your Culture
Steve Jobs was obsessed with keeping things simple, whether it was the product, the user experience, or internal processes. He built simplicity into Apple, if only because he wanted to keep the focus on creative thinking and not complicated internal processes. Ken Segall, marketer and author of Insanely Simple: The Obsession That Drives Apple's Success, submits that Apple turned simplicity into the world's most powerful competitive weapon.
Perhaps your product line doesn't lend itself to only a handful of items. Or regulatory requirements might complicate some of your internal processes. But simplicity is about being easy for customers to work with. When you make it easy for customers to buy your products and services and resolve problems, they return. And that leads to a competitive advantage.
It's Not About Customer Satisfaction
Most people believe that excellent customer service drives repeat sales. The Gartner Group studied the impact of exceeding customer service expectations on repeat business and customer loyalty. They surveyed hundreds of companies and almost 100,000 consumers on three questions:
To what extent does customer service matter in driving customer loyalty?
What can customer service do to drive customer loyalty?
How can customer service improve loyalty while also reducing operating costs?
Surprisingly, Gartner's research indicated that customer loyalty does not result from meeting or exceeding customer expectations. Companies may monitor customer satisfaction metrics, but consumers are fickle. Just because they were satisfied before doesn't have to mean they will buy from you again.
Further, even when a customer service issue is resolved to the buyer's satisfaction, it may not ensure their loyalty to the company. Customer service interactions have more potential to drive disloyalty than repeat purchases. The survey responses show that people tell others more frequently about a negative customer service experience than a positive product endorsement.
What Drives Customer Loyalty
Gartner learned that customer loyalty depends on how easy it is for your customers to do business with you. That's when they'll return with their repeat business.
Making it easy for your customers includes ensuring they:
find the information they need about your products and services
purchase without any difficulty
receive excellent support when they need it
Marketing Message Overload
One look at your email inbox confirms it. Consumers are overloaded with marketing information. Buyers face a vast array of choices when they are making a purchase. Marketers aim to build brand awareness and develop a relationship with the consumer through frequent interactions. Yet many people feel overwhelmed by the number of messages they receive.
Social media has encouraged marketers to connect with consumers and learn more about their purchasing habits. Companies believe the users of their products and services want to join their community and feel connected to their brand. Marketing executives design engagement strategies to encourage frequent interaction and develop relationships with their consumers.
Yet a Corporate Executive Board survey of over 7,000 consumers found that purchasers are not interested in "engaging" with brands. While almost two-thirds of companies perceive their customers as wanting to be part of a community, only 22% of consumers are interested. The top reasons consumers interact online are to get information, receive discounts, and purchase.
The survey sought to identify what makes consumers follow through on an intended purchase, repurchase it, and recommend it to others. It found that the most important driver for buyers is the ease with which they can gather information about a product and confidently weigh their purchase options. Companies can better serve their customers by:
Understanding where they are in their purchase journey
Providing access to trustworthy information about alternatives
Helping them easily make the purchase
Being Simple Pays Off
Siegel + Gale recently published the ninth edition of their World's Simplest Brands survey. Their survey concluded,
"The world's simplest brands are ones that put simplicity at the heart of the customer experience. Our findings reaffirm that simplicity inspires deeper trust, strengthens loyalty, and increases willingness to spend. People are also more likely to recommend a brand that delivers simple experiences. In the end, simplicity drives financial gain for the brands that embrace it and shapes a better future for everyone."
Further, their work indicates that 57 percent of consumers are willing to pay a premium for an easy purchasing experience. And 76 percent are more likely to recommend a brand because it provides simpler experiences and communications.
McKinsey reported similar results from surveying 27,000 US consumers. They found that companies focusing on providing a superior and low-effort experience – such as customer onboarding, account changes, and problem resolution – realized positive business results. Ease of doing business translated to a 10-15 percent increase in revenue and a 20 percent increase in customer satisfaction.
4 Steps to Simplicity
Harvard Business Review offers four steps to delivering the seamless, simple purchase experience demanded by today's customers.
Identify and communicate what "simple" means to you and your organization.
Look within your company to see what needs simplification. It could be your product line, the customer order process, or your website. It may be the various types of discounts you offer. Whatever you target, senior leadership must clearly communicate the need to eliminate complexity.
Design a simple customer journey.
Make it easy for customers to find, select, and purchase your product. Consider the following:
How can you make it easier for customers to understand and evaluate your product offerings?
How can you better target your marketing campaigns?
How can you make your pricing more transparent and consistent?
How can you optimize in-store displays and leverage point-of-sale technologies?
Embrace internal complexity.
In simplifying the customer experience, you must first understand what the customer wants and needs. This may take resources and effort. Servicing your customers may require some internal complexity. Don't focus on making the internal process simple at the expense of the consumer.
Remember that simplicity isn't always the answer.
The bottom line: Know your customer. If a simple process doesn't jive with your highly customized product, or you're dealing with experienced customers, it may not be the best approach. While simplicity should be your default mode, consider that there may be places where more complexity is warranted.
The Role of Technology
Being easy to work with requires an investment in customer service technology. Consumers' purchase journeys are 24/7, so you need a web presence to engage them when they are ready. Online purchase availability and customer service support are expected. Provide phone, email, and chat options for customer service questions. Ensure ease of website navigation, furnish FAQs, and link to credible third-party reviews of your products. Clearly state your shipping and return policies.
Drive Simplicity Through Culture
Simplifying your organizational processes and the customer journey starts with how you and your employees operate. Put another way, it comes down to your company culture. The most effective way to make it easy for customers to work with you starts with how your employees deal with people and processes every day.
Develop a culture that includes the following behaviors:
Communicate to Be Understood.
Communication is at the core of being easy to work with. Don't use acronyms when speaking or writing to someone inside the company, a customer, or a vendor. Make your points clear. Provide simple and complete instructions, especially when dealing with third parties.
Be a Fanatic About Response Time.
Quick response time is a big part of being easy to work with. Respond to questions and customer requests promptly. Establish guidelines for what constitutes an appropriate turnaround time for your business. Let people know when they can expect to hear from you. They save time when you quickly resolve their questions and problems.
When you commit to someone, do what you say you will do. If you cannot keep a commitment, let the other party know as soon as possible and agree on a new deliverable to be honored. It makes others' lives simpler if they know they can depend on you.
Be Relentless About Process Improvement
Constantly review your internal processes and aim for simplification. Consider the impact of things you do on other people and processes down the line. There may be ways to make their lives simpler by changing your approach.
Walk in Your Customer's Shoes
Know your customer. Know what they need and when they need it. Think about how to make things easier for them. Perhaps there are forms you can pre-fill. Do things that will help customers save time; don't push more work back to them. Keep them informed on the status of the work you are doing.
Get Clear on Expectations
Never assume you know what the other party wants. Get clear clarity about what is expected of you and set expectations for others. Ask questions and listen intently. This can save the back-and-forth of getting clarity and having to make revisions.
Look Ahead and Anticipate
Anticipate customer needs and concerns and address them before they become an issue. Have documentation on what to do when the inevitable happens. Ensure problems are solved promptly; don't make customers have to call back multiple times for a resolution.
When employees routinely behave this way, they make working with one another, customers, and vendors easier.