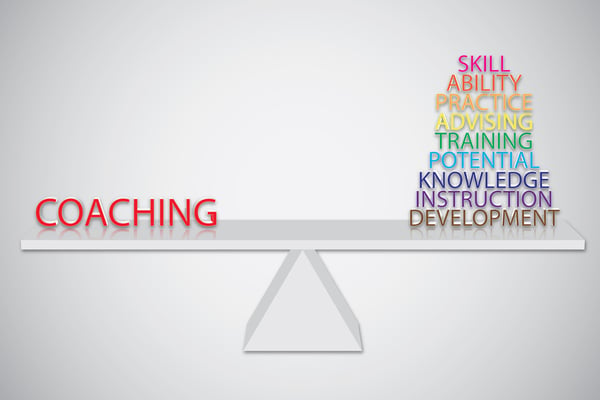 Build a Coaching Culture to Fortify Your Team and Best the Competition
Great coaching is the foundation of any winning team. Few CEOs would argue that point when it comes to sports. But curiously, they often don't see the correlation to their companies. Hiring a coaching consultancy to fortify their C-suite might be part of their leadership strategy. But many view internal, staff-wide coaching as unnecessary, time-consuming, and unmanageable.
One reason behind this negative mindset is that people think internal coaching means expensive training programs and rigid learning formats. Such formal educational opportunities serve a purpose in some organizations that can afford them, but they're not the only teaching option. In fact, an organic coaching culture can have an even greater impact on most companies.
The premise behind a coaching culture is simple: a commitment from all levels of leadership to bring out the best in their team members. Put into action, leaders, managers, and even team members use coaching skills and techniques to motivate people and help them grow. A coaching culture creates a supportive, high-performance environment when exercised with consistency.
The Emergence of Coaching Culture
Years ago, leaders at all levels started their careers by developing expertise in a specific area. As they gained proficiency, they moved up the ladder to supervisory positions steeped in the command-and-control model prevalent in most companies. They knew what had to be done, taught subordinates how to do it, and evaluated their performance. In essence, they directed their people how to replicate past successes.
But this was an untenable plan. Exploding technological advances were already hurtling the business world into a new era by the end of the last century. In the ensuing decades, increasingly complex and evolving economic issues, supply chains, and regulations contributed to the demise of "we've always done it that way" thinking. And then the pandemic happened.
In a world where rapid, constant, and disruptive change is now standard, today's leaders don't have all the answers. To stay competitive, they need to develop their people into a team of problem-solvers to confront an ever-changing environment.
This new approach doesn't mean managers relinquish their authority; employees will still look to them for guidance. But it broadens the paradigm from merely giving staff instructions to helping them unleash fresh energy, ideas, and growth. As a result, employees don't just learn in a coaching culture; they mature professionally and become more valuable contributors.
As renowned author and business coach Sir John Whitmore put it, a skilled coach "unlocks people's potential to maximize their own performance." They not only impart knowledge, but they also help others discover it.
How to Create a Coaching Culture
While regularly providing feedback to employees is helpful, effective coaching goes beyond assessing performance. Good coaches engage people and help them discover ways to improve. Andreas von der Heydt, author of Building a Coaching Culture, explains the concept this way:
"Coaching is both a personal development and leadership approach and technique to assist coachees in finding their own solutions; mainly by asking them thought-provoking questions and by following a well-structured and goal-oriented process facilitated by the coach."
The GROW model devised by Whitmore and his team is one of the best models for a coaching initiative. The name is an acronym for the four key steps of this application:
G: Goals and aspirations
R: Reality (current situation and obstacles)
O: Options (possibilities, strengths, and resources)
W: Will (actions and accountability)
Coaches initiate each step with a series of questions designed to engage, teach, and inspire the direct report.
Goals
The first thing managers should do when discussing a topic with someone they're coaching is to establish what they want to accomplish. They can initiate the process by asking questions like:
What are you looking to achieve in the short term?
What do you want to get out of this meeting?
What's the bigger picture and ultimate goal with this issue?
This dialogue sets the stage for the manager to guide their team member through the problem-solving process.
Reality
The next step is to discuss the current situation and what barriers may be in the way of achieving the team member's goal. In addition to asking them to describe the status of where they are with a project or problem, managers can ask questions like:
What are the external and internal obstacles preventing you from achieving your goal?
What qualities and resources do you have to help overcome these obstacles?
These questions help employees feel more in control and focus on possibilities.
Options
After they open the discussion to possible solutions, coaches can help people explore the options for moving forward. Then, they can further the dialogue with questions such as:
How would you tackle this problem if time wasn't a factor?
What option appeals to you the most right now? Why?
What else could you do?
The more imaginative the questions, the more likely the person will have a breakthrough insight.
Will
Once the employee identifies the best options, the coach's final step is to guide them into action. The two should agree on a game plan and set up a structure for accountability. At the end of the coaching session, the manager might ask questions like:
What will you do next, and what follows after that?
When will you do these things?
How will you and I know you've been successful?
How committed are you to reaching this goal?
A successful coaching session prepares the employee to take ownership of the project or problem and see it through. Afterward, the two can discuss outcomes and potential improvements for the next situation they face. When done effectively, the GROW method builds employee confidence, initiative, and resourcefulness.
Coaching Culture Benefits
Employees in coaching-based organizations gain a deeper understanding of their capabilities and ability to advance. This improves their outlook and feeling of accomplishment, leading to higher retention rates.
Additional bonuses resulting from establishing a coaching culture include:
Stronger

employee engagement

Increased productivity and performance

Improved creativity and agility

More accountability

Better collaboration

A more robust belonging and inclusivity environment

Creation of a healthy leadership pipeline
Combined, the benefits of a coaching culture will improve a company's ability to rise above the competition.
What Makes a Coaching Culture Work?
The International Coaching Federation (ICF)is the world's largest organization of professionally trained coaches. They assert that a coaching culture can only exist in organizations where executives, managers, and employees value coaching. That kind of buy-in doesn't happen without iron-clad endorsement from the top.
For example, in their 2020 global study, ICF reported that 50 percent of coaching initiatives fail due to limited sponsorship from senior leadership.
This statistic correlates with CultureWise CEO David J. Friedman's advice for building culture illustrated in his book, Culture by Design. Coaching is a crucial part of his eight-step framework to build high-performing workplace culture. And he agrees that CEO sponsorship is the single biggest factor correlating to a culture initiative's success.
He notes, "Leaders must be a loud, clear advocate for their culture—no one else carries the same political or emotional clout."
After committing to the direction of their culture, a CEO needs to provide their management team with a methodology to put this initiative into action. One of the most powerful tools they can share is to build an understanding that workplace culture is based on behaviors.
Behaviors that enable employees to shine are easy to define and explain. Managers can use these behaviors as discussion points in coaching sessions to help their team members discern next steps. Exploring how to apply these behaviors in specific situations provides employees with actionable pathways to move forward and grow.
In addition to promoting this kind of one-on-one coaching, CEOs can leverage technology in their organizations to emphasize teaching points. They can reinforce a coaching atmosphere beyond formal sessions by regularly circulating tips and insights to initiate productive conversations.
And on a micro level, leaders should encourage managers to view every situation as a teaching moment. This habit may be hard to develop, but it is very effective once mastered. As Friedman explains,
"As problem solvers, it's our natural tendency to want to jump in and start taking action, to give direction, and to make things happen. But this is when it's important for us to slow down and recognize the teaching opportunity that's been presented. In the long run, we're actually gaining speed because we're helping to grow our people's capabilities to handle more situations on their own."
When all these components are combined, they create a coaching culture. This environment offers employees at all levels the opportunity to grow professionally, contribute value to the organization, and reach their goals.
Explore the CultureWise website to learn more about building a coaching-based culture that empowers employees to excel. Then book a call with a CultureWise specialist to discuss what CultureWise can do for your company. And sign up for a complimentary subscription to Culture Matters for the latest culture-related articles, videos, podcasts, and webinar opportunities.