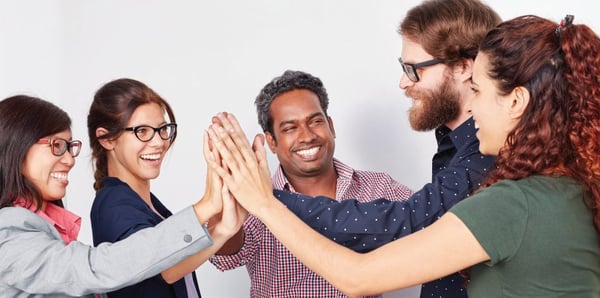 Dynamic Company Culture Helps Staff Excel in any Environment
The work-from-home (WFH) mega-trend that erupted during the pandemic prompted business leaders to ask questions that many never had to consider before.
How productive are people when they perform their jobs remotely?
Were employees no longer working on-site putting as much effort and hours into their roles as they had at the office?
Opinions about the issue vary widely. And the debate is ongoing because the remote work model is poised to continue after the current health crisis is behind us. That's because, despite the lingering questions, many employers recognized multiple benefits in having staff working from home over the past eighteen months. These included:
Improved retention and recruiting as most employees prefer WFH flexibility
Access to a broader talent pool not tethered to workplace proximity
Fewer overhead expenses
The ability to scale without expanding premises
These upsides prompted lots of business leaders to plan for a much higher percentage of remote workers or hybrid teams who split their time between their office and home desks. Now executives are challenged with developing ways to ensure that their staff can be productive wherever they work.
Remote vs. On-Site—Which Model Works Best?
Some studies, including those conducted by Great Place to Work and Stanford, show that people who performed their jobs from home during the pandemic were more productive than they had been in the workplace. The reports indicate several factors contributed to this phenomenon.
For example, many remote employees cited increased ability to focus while working in isolation at home vs. bustling office settings. They also reported that eliminating the daily commute gave them more hours of productivity. And the added flexibility allowed them to capitalize on working when they were at their best—often during non-traditional work hours.
Despite these claims, a segment of business leaders remains convinced that people work less effectively from home than the office. Some questioned the number of hours spent on the job, hence the advent of more surveillance software to gauge active work time on computers.
Many executives also lamented the loss of impromptu conversations and collaboration that happen when people interact face-to-face. They firmly believe that a long-distance format drains organizations of innovation and collective problem-solving.
Business titans are squaring off about the best formula for success. For instance, CEOs of JP Morgan, Morgan Stanley, Apple, and Amazon are certain employees work more effectively when they are together. But leaders of UBS, Twitter, Cisco, and UOB Bank have made headlines with their endorsements of the WFH model.
Who's right? There is validity on both sides of the argument.
Essentially, the question of whether remote or on-site staff operates more effectively depends on the specific company and industry. The emerging work world is likely to feature multiple ratios of WFH and in-house employees, with almost all employers having some remote workers. The ideal staffing solution will vary from business to business.
Where Are People Likely to Be More Productive?
Some people scoff at the idea that on-site workers are higher achievers than their remote colleagues. Many are familiar with employees who perfected the art of looking busy at the office without substantive output. And while "water-cooler" chats can generate creative dialogues, they can also rob people of valuable work time. What's more, lengthy and unnecessary meetings are much more prevalent when people are under one roof.
As a counterpoint, those who discount the productivity of remote staff talk about the various distractions found at home. They believe it's too easy for WFHers to give in to the temptation of regularly segueing into personal tasks or diversions. They also assert that remote workers can't collaborate as efficiently as people in the same building—especially if they don't share the same work hours.
All these scenarios are plausible; underwhelming productivity can occur whether people work on their employer's premises or at home.
The problem isn't so much where people are doing their job, but how.
A Culture of Results
Productive employees have a great common denominator—regardless of their location. If a company's culture supports and develops exceptional work habits, all staff members can be top contributors wherever they perform their job.
However, as CultureWise CEO David Friedman notes in Culture by Design, "High-performing cultures don't happen by chance." Instead, he explains that leaders must take an intentional approach in molding and enhancing their company's culture to help people live up to their potential. And the increased number of remote and hybrid teams makes the deliberate development of culture more crucial than ever before.
An organization's culture is characterized by the behavioral norms exhibited by its workforce. The first step leaders must take to create a performance-based culture is to clearly define, model, and coach the behaviors that help people work more effectively. This shared code of conduct becomes a framework that guides and aligns all staff members.
The following seven performance-based behaviors cultivate productive teams in any environment.
Demonstrating a passion for excellence
Employees take more pride in what they do when they understand the value of their roles and how their contribution impacts the entire organization. When leaders build that kind of connectivity into the culture, people understand the relevance of their work. Regardless of where they operate, people with clarity about their purpose will take the quality of what they do much more personally.
Honoring commitments
For employees to build trust among coworkers and establish loyal customers, they must follow through with commitments. But a strong culture goes beyond this baseline behavior and encourages creative problem-solving when circumstances derail a deliverable.
If someone can't fulfill a commitment for some reason, they should still honor it by swiftly notifying affected parties and developing a new strategy for delivery. This freedom to be solution-focused requires employers to create a blame-free atmosphere in which staff members feel empowered to handle situations wherever they're operating.
Establishing expectations
Uneven productivity or performance is often rooted in unclear expectations. So a core goal of a high-performance culture is making sure everyone is on the same page—whether they're working in the same room or different zip codes.
Leaders should train managers to take the time to explain specifically when, how, and why things are to be done. And if direct reports aren't sure what's expected of them, they should be taught to ask questions until they have a clear picture. Establishing this kind of alignment may take a little extra time, but it will build much stronger efficiency in the long run.
Showing initiative
In companies with restrictive cultures, workers often shy away from showing initiative or being resourceful because they fear repercussions if something goes wrong. Productivity suffers because people don't feel comfortable tackling problems and instead wait for management to step in. This kind of hesitancy may happen more frequently with remote workers who feel unconnected to leadership.
To build a performance-oriented culture, leaders must assure staff that they are trusted to be proactive and take ownership of situations. When employees feel supported in this way, they adopt a sense of proprietorship. They develop a bias for action and make things happen instead of making excuses. Solving problems becomes a point of personal pride.
Being highly responsive
Being highly responsive is a hallmark of performance-based work cultures. Organizations that make rapid internal response a behavioral standard automatically keep things flowing faster. And a business that swiftly responds to customers' needs will stand out from its competitors.
Even though it's relatively easy to react to questions and concerns quickly, many companies fall short in this area because leadership fails to define what responsiveness means in their organization. And inconsistent response time can become even more pervasive when people are operating from different locations.
But when leaders prioritize rapid response time and precisely explain what that looks like in their company, people can effectively perform this behavior wherever they work.
Sharing information
Many who downplay the efficiency of the remote work model claim communication is much more effective with in-house staff. But silos can easily develop under one roof when people sit on knowledge for personal reasons or simply fail to consider who else might benefit from learning what they know. Effective communication relies on the habits and attitudes of those involved—not their proximity.
For a company to operate with transparency, leaders must embed a team-first mentality in its culture. The more everyone knows, the more effectively people can work together to achieve organizational goals. And distance doesn't hinder employees' ability to share information freely. Technology has empowered people with excellent communication tools that erase boundaries.
Improving constantly
The pandemic forced people to rethink how they perform their work. As a result many of us discovered better, faster, and more efficient ways to get things done, despite some hurdles. But reevaluating processes and habits shouldn't be something we only do when confronted with an emergency.
One of the most distinctive attributes of a high-performing culture is an unwillingness to accept the status quo. That's why top leaders encourage people to regularly assess and improve everything about their job. Being relentless about improvement maximizes performance throughout an organization. This behavior is especially crucial in today's fluid work arena.
Developing Culture that Transcends Walls
The belief that corporate culture can only exist when people are physically together is erroneous. On the contrary, culture can bind a workforce together regardless of whether team members are in the same building or the same state.
Highly successful large corporations operating in multiple locations, like The Ritz-Carlton and Wegmans, point to strong culture as the root of their stability and brand. Leaders of companies like these understood how to craft and leverage culture for a widespread workforce long before the pandemic rendered remote work the new normal.
When COVID hit, businesses of every size were forced to function with a far-flung staff. The organizations that had the most success amplified their culture to continue supporting and influencing employees as they worked from home.
Today, work model options vary more than ever before and provide leaders with increased flexibility to build skilled teams and compete in the marketplace. As the business world evolves, leaders must leverage company culture to drive consistent performance no matter where their teams are.
David Friedman created the CultureWise system to help organizations maximize productivity, enthusiasm, and the ability to collaborate wherever they perform their jobs. Learn more about how this groundbreaking program helps leaders create and sustain world-class company culture by visiting the CultureWise website. And get more informative content about business and culture with a complimentary subscription to Culture Matters.