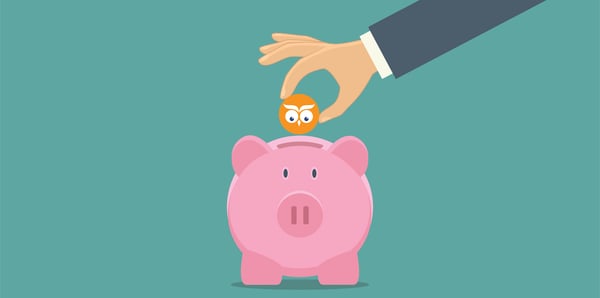 CultureWise: An Investment in Your Company's Future
You've already made a smart decision. You understand how important your organizational culture is to your business's success, and you're going to do something to strengthen it. Now you're looking at options to achieve that goal, and you're considering CultureWise.
Whatever you decide, an investment in your corporate culture will improve just about every area of your company, and most of these enhancements will have a positive impact on your bottom line. You'll see the ROI in big and small ways throughout your organization.
We're confident that CultureWise is a powerful tool that will help most small to medium-size businesses rise to a new level of success.
Choose from 2 Versions
To accommodate companies of different sizes and with various needs, we've developed two versions of the CultureWise program:
STANDARD EDITION
CUSTOM EDITION
Both versions offer a set of Fundamentals that fit your business, assistance in rolling out the program to staff, a vast library of teaching content, and our powerful mobile app.
The primary difference between the two editions is in how you determine your final set of Fundamentals.
What's a Fundamental?
"Fundamental" is the term CultureWise uses to describe a specific optimal behavior you want your staff to perform regularly.
For instance, some of our Fundamental titles are:
Listen to Understand
Assume Positive Intent
Do What's Best for the Customer
Practice Blameless Problem-Solving
Each title is accompanied by a short description that outlines what it means to follow that behavior. As an example, the description for Practice Blameless Problem-Solving is:
Demonstrate a relentless solution focus, rather than pointing fingers or dwelling on problems. Identify lessons learned and use those lessons to improve ourselves and our processes so we don't make the same mistake twice. Get smarter with every mistake. Learn from every experience.
Fundamentals are the cornerstone of the CultureWise program and will change the way you define and think about your culture.
Features & Costs Comparison
The following information will demonstrate the difference between the features and costs of the Standard and Custom editions of CultureWise. There are three components to consider for both:
One-time implementation fee to create your Fundamentals
A monthly subscription to run the CultureWise Operating System
One-time fee to roll out the program to staff
Implementation
Standard Edition
For the Standard Edition, you choose from an existing menu of Fundamentals rather than developing them organically. After years of working with and helping a wide variety of clients, we've discovered that the same issues are prevalent in most companies. Based on our experience, we compiled 60 Fundamentals that reflect just about every aspect of culture you might want to improve.
Rather than starting from scratch if you were developing your own culture program, you select the Fundamentals that resonate most for you. The standard Fundamentals are excellent, and they work well for most companies. But they are fixed; there is no flexibility in rewording them or adding brand new Fundamentals to your list. The Standard Edition can usually be rolled out in 30 days.
Standard Version 1-time Implementation Fee: $1,500
Custom Edition
In the Custom Edition, a CultureWise consultant will meet with your leadership team to brainstorm the list of Fundamentals and how they specifically apply to your company. Then we write and polish them based on your feedback until we develop the final version. The resulting set of Fundamentals will reflect your company's personality and may incorporate some signature language you currently use within your culture.
The custom version is a much more labor-intensive process that includes a series of meetings and unlimited revisions to get the Fundamentals exactly the way you want them. The Custom Edition takes about 60 days to roll out.
Custom Version 1-time Implementation Fee: $12,100
Subscription
The monthly subscription covers all the teaching content that CultureWise Operating System delivers daily to your staff via the CultureWise app or on a computer. This curriculum was developed to help employees deepen their understanding of the Fundamentals and provide management with an effortless and standardized way to present the information.
The CultureWise Operating System offers a structured, systematic method of teaching the behaviors described in the Fundamentals until they become second nature.
There are seven types of correlating teaching content for each Fundamental:
Quick Tips: These 2 to 3-sentence insights are pushed to the app every day. They are simple, "bite-size" reminders that don't take much time to read, but they have a meaningful impact.
Coaching Tips: These helpful suggestions for managers and supervisors are invaluable as they coach individual employees on issues relating to the Fundamentals.
Teaching Points: A collection of the most relevant ideas about the Fundamental to get across to team members helps management reinforce behavioral goals.
Questions for Discussion: This list of questions is designed to start a more engaging dialogue about the Fundamental of the week. Different questions can be used at the beginning of every meeting.
Video Tutorials: We've filmed between 2-7 60-second video tutorials (called Fundamental Minutes) for every Fundamental that are viewable on the mobile app. Each one highlights a thought-provoking aspect of the Fundamental.
Lessons: A series of scenario-based lessons corresponds to every Fundamental. Each lesson describes a situation and asks the reader to choose the best response. The reader receives immediate feedback based on their response (right or wrong). These lessons are pushed out weekly on the app or via email.
E-learning Material: These are online courses to introduce new employees or anyone who may have missed the rollout to your Fundamentals.
The subscription cost is the same for both editions of CultureWise, and it's based on the number of employees who will be participating:
EMPLOYEES RATE
Under 25: $10 per person
25-49: $9 per person
50-99: $8 per person
100-249: $6 per person
250-499: $5 per person
500-999: $3.50 per person
Over 1,000: $2.75 per person
Rollout
The last pricing component is for what we call the "rollout," which is a critical part of making the program successful. The rollout is a 3-hour event that introduces CultureWise to all team members. It's how we get them engaged, excited, and ready to start practicing your Fundamentals.
The rollout is highly interactive and includes exercises and activities that give everyone a chance to get a firm grasp of your Fundamentals. We usually break the sessions down into no more than 40-50 people and then smaller groups within each session.
A CultureWise Consultant typically facilitates rollouts, and we can do them virtually or in-person.
Depending on the number of people and locations that you have, we'll do as many sessions as necessary to get everybody orientated with the program. We can usually accommodate up to 100 people per day.
After people participate in the rollout, they're energized and ready to start practicing.
ROLLOUT COSTS
First Day: $3,500
Additional Sessions: On-site, per day—$3,500
Virtual, per session—$1,750
Additional Expenses
Two other areas might generate additional expenses:
Travel Costs
Printing
Travel Costs
If a CultureWise consultant comes to your location for meetings or a rollout, we'll charge you for our expenses. Please know that we're sensitive about how we spend your dollars, and we'll economize everywhere we can.
Printing
We highly recommend printing wallet-sized "Way cards" that list your Fundamentals with your logo and branding. These cards are given to every employee as a quick reference and constant reminder of the culture you are building together.
You can print these on your own or use our printer who has created thousands of these helpful products. They typically cost $1-$2 per card, including the graphic design work.
Which CultureWise Edition is Right for You?
There are several things to consider in choosing the CultureWise edition that best suits your company's needs.
Cost
Customized Language
Extra Assistance
Time
Standard Edition
The Standard Edition is less expensive than the custom version, yet it still provides everything needed to systematically improve your culture. Since the Fundamentals are chosen from the CultureWise list, it's faster to get up and running than with the Custom Edition. It doesn't include quite the same level of "hands-on" assistance provided in the Custom Edition, but it does come with unlimited phone support.
While both versions of CultureWise are available to companies of all sizes, we generally find that companies with 50-100 people prefer this faster, simpler, more cost-effective Standard Edition.
Custom Edition
Many CultureWise clients prefer the flexibility to customize the language of their Fundamentals. Some even use it as part of their branding.
For companies like this, the additional time needed to craft customized language is worthwhile. They also register value in having a CultureWise Consultant guide them through every step of the process, including developing rituals to practice the Fundamentals, and preparation for the rollout.
The Custom Edition is often chosen by larger companies with more resources and complex workforce structures.
Next Steps
If you're ready to sign up for a Standard Edition of CultureWise, you can go through the entire process online. After registering, you'll follow a simple step-by-step process to select your Fundamentals and plan your rollout.
You may be intrigued by the Standard Edition but want to learn a little bit more about how it works before you enroll. To do that, we invite you to look inside CultureWise to see how the system operates.
After reading about the different versions and pricing, you may want to talk to someone to learn more about CultureWise. We're always available to speak to you personally and answer any questions you might have.