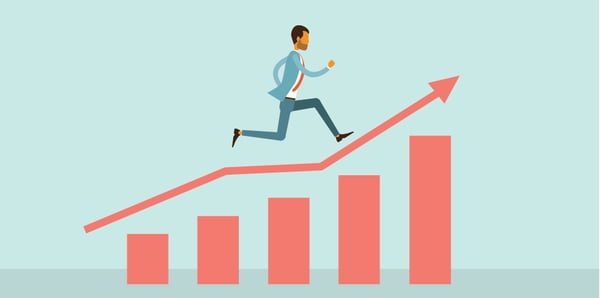 Why Your Company Needs a High-Performing Culture and How to Build One
By Candace Coleman, CultureWise Content Manager
How many categories of corporate culture are there? A Google search quickly shows there is no consensus. Various sources claim there are four, five, eight, ten, twelve, or more kinds of organizational culture. Some articles even highlight culture subtypes that exist within every company.
The assortment of opinions makes the topic confusing, and combing through the information can be an exhausting task. A better approach for business leaders trying to discern the best culture model might be to simply ask this question:
"What's the long-term goal for my company's culture?"
The simple answer for most people would be to strengthen their team and make their business more successful. Beyond the sliced and diced categories, theories, and fanfare—what leaders really want is a high-performing culture.
Ordinary Culture vs. High-Performing Culture
An organization's culture is defined by its employees' everyday behaviors and attitudes. A typical company culture reflects some positive, acceptable, and even a few substandard characteristics. A business with an ordinary culture can do reasonably well, but its performance may be uneven.
A high-performing culture is formed by a set of outstanding behavioral norms that lead teams to consistently achieve superior results.
Such cultures never happen by chance. For a culture to be the driving force behind a company's success, it must be intentionally planned and thoughtfully nurtured.
Who Needs a High-Performing Culture?
These days, most company leaders are aware that a solid organizational culture has value. More than likely, they've invested some time in creating a sound basis for their culture with fairly good results.
Some people may be satisfied at that level. But others understand that being good isn't good enough for two crucial reasons.
Companies with merely good cultures:
Won't have a sustained capacity to weather inevitable storms
Lack the internal stamina to become and remain market leaders
Too many external factors can knock a business with a satisfactory culture off the rails. Organizations have no control over market volatility, regulatory changes, the economy, politics, and local or even global emergencies. But companies with powerful cultures are much better equipped to withstand setbacks.
Businesses that have reached a comfortable level of success may be unable to hold onto it when the competition gets tough. Short-term gains can quickly be eclipsed by a new product or service on the market or a drop in a competitors' pricing.
Author and leadership expert Jim Collins cautions leaders not to be seduced into complacency after achieving an initial level of success. As he points out in his book Good to Great, to skillfully clear hurdles and maintain a winning trajectory, organizations must "transcend the curse of competence."
A high-performing culture has the power to propel a company with moderate achievements to one with sustained success. Collins is among a legion of authorities on the subject who believe that a strong culture is the antidote to "good enough."
Tandem Strategies for Business Success
Stanley Truskie, author of Leadership in High Performance Organizational Cultures, is another expert who has written extensively about the benefits of a dynamic corporate culture. In his book, Truskie advocates two elements for achieving lasting success in business. He believes companies should develop strategies for:
Organizational Leadership
Directional Leadership
The goal of the organizational strategy is to reshape a staff's behavioral norms into a "performance-enhancing culture." Qualities that lead to exceptional work and company wins should be introduced and reinforced to achieve this change.
The organizational strategy should work in tandem with a directional leadership strategy, which includes a company's:
Vision
Mission
Purpose
Performance objectives
Comprehensive business plan
Truskie says that the two strategies target different areas, but they have a distinct relationship. The directional strategy establishes a company's path, while the organizational strategy enables the business to move down that path.
Despite the logical advantages of activating this two-pronged model, Truskie's research shows that many leaders lack a coherent and defined organizational strategy. And those who include organizational strategy as policy—but don't activate it—wind up with mediocre results.
Both strategies need to be functioning chambers of the same engine to set and maintain a winning pace.
When the tandem strategies are working effectively, they give a company a compelling and hard-to-copy advantage.
The Qualities of a High Performing Culture
Naturally, a company's culture should reflect the specific goals and guidelines of its industry. Cultural characteristics that are crucial in some fields may be less appropriate for others.
For instance, innovation is critical to tech companies, but less so for financial institutions that must adhere to tight regulatory standards. Prioritizing safety wouldn't be relevant to a marketing agency, but it is a primary concern for manufacturing firms.
Additionally, every culture is somewhat unique because people's personalities and leaders' priorities play a significant role.
Beyond those clarifications, there are some strong, "common denominators" that can drive success in every workforce:
Accountability
Cooperation
Achievement
Inspiration
The behaviors that bring these qualities to life should be part of any high-performing culture.
Accountability
Being accountable is taking responsibility for decisions and actions. Accountable people "own" assignments and mistakes and see everything through to a solution stage. Accountability establishes trust among teammates and between a company and its customers. Many successful business leaders claim it is one of the most important elements of their organizations.
As simple as it sounds, too many businesses don't stress accountability as a priority. Some organizations with top-down structures may even resist empowering staff to take ownership of situations.
If accountability isn't fostered within a culture, employees easily default to victimization, blame, or the "it's not my job" mindset that makes ongoing, high-level performance unachievable. And lack of accountability is costly.
As Craig Hickman, Tom Smith, and Roger Connors point out in The Oz Principle: Getting Results Through Individual and Organizational Accountability:
"The price paid by nonaccountability does not become clear until you see its opposite: accountable people getting results. Then, you can actually calculate the value of accountability in terms of profit gains and market share expansion."
Cooperation
The underlying current in any high-performing culture is its employees' ability to work together as a cohesive unit. Cooperation needs to happen on multiple levels to maximize the effectiveness of a workforce. Staff should consistently demonstrate the following behaviors and attitudes:
Having a team-first mentality: a willingness to dial back egos and personal agendas to reach organizational goals
Establishing clear communication channels: information is freely shared, "silos" are non-existent, and expectations are clearly set
Engaging in strong collaboration: embracing diverse perspectives, upholding mutual respect, and interacting with coworkers to maximize results
Generous listening: paying close attention to what's being said and suspending judgment to absorb the most value from conversations and allow others to fully contribute ideas
Speaking up: readily sharing thoughts, raising issues, asking for and providing feedback; being transparent, direct, and honest to move the action forward for team success
For a company to achieve at a high level, the various layers of cooperation need to be constantly reinforced.
Achievement
Occasional, standard achievements help a company survive; consistent achievement at a high level enables a company to prevail in its field. Three essential elements need to be part of company culture for an organization to achieve outstanding outcomes:
A commitment to quality
Continuous improvement
Delivering results
Quality
From the goods they sell, to team members who take the utmost pride in personal work, to the customer experience—top companies exude quality. Having a reasonably good product or service doesn't register on the quality meter for a market leader.
High-performing organizations settle for nothing short of exceeding industry norms in everything they do.
Exceptional quality makes an immediate and lasting impression on people. When demonstrated consistently, it is the cornerstone of a stellar reputation in the market.
Improvement
High-performing teams don't settle for the status quo. They know that no matter how good a process, service, or product seems to be, there is always room for improvement. They take time to make minor tweaks that can be incremental differentiators and major overhauls that reimagine how something is done.
Even after an improvement has been made, members of these teams regularly explore ways to be even more efficient and effective. They are relentless about continuously making things better.
Results
Being results-oriented is going beyond making a reasonable effort to get something done. Employees focused on results aren't satisfied until they accomplish their goals and make good on their promises.
Delivering results includes:
Honoring commitments
Being thorough and not skimming over details
Following up on everything and not assuming it's someone else's job
Not giving up, thinking creatively, and finding ways to overcome obstacles
Working with a sense of urgency to get things done
Viewing challenges as opportunities
Being decisive
Results-oriented team members don't make excuses or explain how hard they tried. They just dig down and complete what they set out to do.
Inspiration
Leaders of high-performing teams understand that vested, talented people are their company's most valuable assets—and competition for skilled workers is fierce.
These leaders don't rely on fun perks to drive employee engagement. They cultivate loyalty by developing channels within the company culture to inspire people and help them grow.
Their efforts to enrich and enable their staff strengthen their employees' connection and allegiance to their organization. And active employee engagement is critical for a company to win continuously in the marketplace.
As CultureWise Founder and CEO David Friedman notes,
"People who are more engaged, more aligned, and more motivated will work harder, longer, and better than those who aren't. Creating an engaged workforce is how you unlock all the untapped potential and discretionary effort that's inside every staff member."
Four of the best ways that leaders can inspire employees are to:
Help them understand how they fit into the big picture and why their contributions are important


Encourage them to be life-long learners and provide opportunities for growth


Establish a mentorship program to help newer team members absorb historical knowledge and benefit from veteran's experience and guidance


Regularly provide meaningful acknowledgment for big and small actions that further progress on team goals
These initiatives build employees' confidence and make everyone's work more rewarding. The result is elevated employee engagement, which leads to stronger cultural alignment and consistently positive work outcomes. A commitment to inspire and support employees is a win/win policy.
How to Achieve a High-Performing Culture
As noted at the beginning of this article, a high-performing culture doesn't just happen. It develops through an intentional effort to foster winning behaviors throughout an organization.
It's a big concept, and some leaders may find the idea overwhelming even though they see the benefits of such an undertaking.
But, as David Friedman explains in Culture by Design, the process of creating a high-performing culture doesn't have to be complicated or even particularly time-consuming.
And it pays off quicker than many might assume. After implementing the method outlined in Friedman's book, a company should begin to realize results almost immediately. With standard turnover and a culturally aligned hiring profile, his innovative process can transform organizational culture in just a few years. A free, two-chapter download of this valuable resource is currently available.
Friedman launched the CultureWise system to make the process inspired by the book even more accessible. This unique program has helped leaders across the U.S. and Canada create exceptional company cultures. Learn more by exploring the website—and get access to articles about trending culture topics with a complimentary subscription to the weekly CultureWise newsletter.