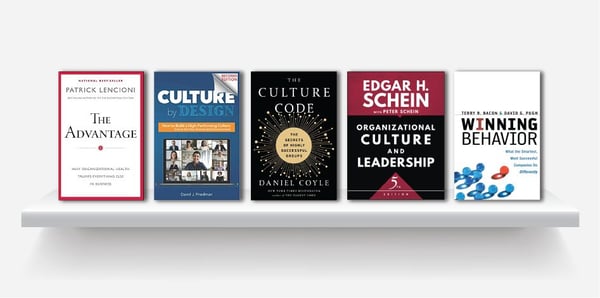 Top 5 Corporate Culture Books: Learn How to Transform Your Business
By Candace Coleman, CultureWise Content Manager
Culture is such a dominant theme in business news that the books and articles about it could fill a library. That's good news for people who want to learn more about the topic. But it can be a mind-numbing task to sift through mountains of sources to find relevant information.
This article winnows down a shortlist of the best books on corporate culture written by experts who view it from different angles. We've provided a summary and take-away for each one to help business leaders select the publications that will be most useful for them. While they are all excellent resources, some of these books may resonate more than others depending on readers' goals.
When Did the Idea of Corporate Culture Start?
Culture has always existed in every business. But it wasn't until 1951, when Dr. Elliott Jaques did a case study of a British company and published The Changing Culture of a Factory, that culture in the organizational context became a formal topic.
Jaques, a psychoanalyst, social scientist, and management consultant, was the first to assert that an organization's culture "is its customary and traditional way of thinking and doing of things, which is shared to a greater or lesser degree by all its members, and which new members must learn, and at least partially accept, to be accepted into service in the firm."
The study covered the development of corporate group behaviors and opened a global discussion of how a business's culture impacts its operations. The concept became more mainstream in the 1970s, and the term "corporate culture" bubbled up in the early 1980s. By the 1990s, it had earned buzzword status, and now it's hard to imagine a conversation about business without including culture.

The Top 5 Books on Corporate Culture
We asked authorities in the field to recommend books they consider to be the most informative about company culture, and five books surfaced as favorites. Each author has different advice, but there's one common thread in their publications.
Understanding and harnessing organizational culture is a crucial element in achieving success in business.
Here's the shortlist of the best corporate culture books for business leaders:
The Advantage: Why Organizational Health Trumps Everything Else in Business
Patrick Lencioni is a best-selling writer of books that explore team management and is known as something of a guru in that field. He pioneered the concept of organizational health, and his company Table Group is at the forefront of a movement to help companies achieve it.
In his 2012 book, The Advantage, Lencioni claims that "Organizational health will one day surpass all other disciplines in business as the greatest opportunity for improvement and competitive advantage." He advises business leaders that "any organization that really wants to maximize its success must come to embody two basic qualities: it must be smart, and it must be healthy."
He characterizes the distinction between smart and healthy aspects of a business this way:
Smart
Strategy
Marketing
Finance
Technology
Healthy
Minimal politics
Minimal confusion
High morale
High productivity
Low turnover
Lencioni says that smart organizations are good at the classic fundamentals of business science—but being smart is only half the equation. Equally important is a culture that fosters all the components that make a company healthy.
Unfortunately, he says, many leaders don't embrace the idea of building healthy cultures because they can't let go of three biases:
The Sophistication Bias: It's too simple and accessible. People with this bias believe that differentiation and dramatic improvement must be complex.
The Adrenaline Bias: It doesn't happen fast enough. Some people are reluctant to slow down to deal with issues that are critical but don't seem particularly urgent.
The Quantification Bias: It's hard to measure. Leaders who rely only on analytics to gauge improvement are uncomfortable with the idea that you can't isolate and assess the variables that define a healthy culture.
He urges executives who prize the "smart" aspects of building a solid business model to look at organizational health as a "multiplier of intelligence." After spending decades working with CEOs, Lencioni observed that healthy organizations get smarter over time. But the converse is not true. "Smart organizations don't seem to have any greater chance of getting healthier by virtue of their intelligence."
He builds a model for organizational health on four disciplines that lean heavily on communication. Most of the book centers on explanations of these disciplines, peppered with anecdotes and real-life examples.
A crucial part of the process is that all levels of leadership have a unified perspective about the organization's direction. Lencioni offers six critical questions to help leaders develop a cohesive approach to attain and continuously bolster company health. At the end of the book, Lencioni includes a checklist that leaders can use to gain a sense of their organization's health and identify areas for improvement.
Take-Away
In The Advantage, Patrick Lencioni draws on his observations of working with thousands of senior executives to explain why organizational health is the key to every company's success. The book offers pragmatic, actionable advice to remedy "unhealthy," dysfunctional company cultures and details the financial cost of not making this a priority.
Culture by Design: How to Build a High-Performing Culture, Even in the New Remote Work Environment
Having led more than 500 culture workshops for CEOs and senior leaders since 2013, CultureWise Founder and author David Friedman has observed a fascinating evolution in the questions and concerns raised at these events.
When he first started addressing these groups, many participants had a vague concept of what culture was. He spent a fair amount of time making a case for why culture is so important and how much it can influence an organization.
What Friedman noticed in later years is that culture has emerged at the top of most executives' list of priorities. It's no longer considered a "soft" topic—the business world has been indoctrinated in the value of company culture.
But just as many leaders were learning to embrace and actively seek ways to improve their culture, a new challenge to achieving that goal was triggered by the pandemic. Beginning in 2020, the questions Friedman heard most often were:
How do we manage and protect our culture when our people are mostly working remotely?
How do we select the right people to fit our culture when we may never meet them in person?
How do we onboard them effectively, and how will they pick up that "feeling" of our culture?
How do we keep people engaged in our culture when they're rarely together?
Friedman published Culture by Design in 2018 to: "provide leaders with a clear blueprint for how to systematically and intentionally create, drive, and embed a high-performing culture throughout an organization."
The content in the first edition still resonates, but Friedman wanted to address the new layer of complexity in corporate culture brought on by the tsunami of pandemic-related changes. The updated second edition of this influential book also tackles questions about maintaining a strong culture with a remote or hybrid workforce.
Friedman developed his approach to building a high-performing culture as the CEO of several companies over the past several decades. Drawing on experience within his own organizations, he created a simple, eight-step framework based on reinforcing the behaviors that generate individual and organizational success.
Friedman's system for improving company culture is laid out in detail in Culture by Design. The book functions as a "how-to manual" to intentionally build and continuously enhance culture.
In easy-to-follow terms, Friedman explains the process to define, ritualize, and communicate preferred behaviors and the best methods to have staff practice them until they become second nature. The book includes clear examples and tips, templates for specific messaging tools, and links to videos that create an even more dynamic learning experience. A free, two-chapter download of this book is available.
For leaders interested in taking their culture initiative to the next level, the book also explains the CultureWise® program that was inspired by the eight-step framework.
Take-Away
Culture by Design may be the most practical resource about revitalizing organizational culture on the market. Friedman demystifies and simplifies the process, and the step-by-step instructions outlined in the book make the method accessible and achievable for organizations of any size.
The Culture Code: The Secrets of Highly Successful Groups
New York Times bestselling author Daniel Coyle asks this question in the introduction to The Culture Code: "Why do certain groups add up to be greater than the sum of their parts, while others add up to be less?"
His conclusion? The groups that excel aren't smarter; they just work together in a smarter way.
How people collaborate within a group is a very basic description of a culture. Coyle believes most people agree that culture is a powerful force, but they're unclear about why some organizational cultures function at a higher level. He writes that many people presume groups that excel "are so singular and distinctive that they seem fixed, somehow predestined."
Coyle disagrees. After years of researching eight of the most successful groups in the world, he determined that their cultures were formed intentionally through the development of three universal skills:
Skill 1: Build Safety.
Great group chemistry stems from sending crystal clear signals of connection that generate bonds of belonging and identity.
Skill 2: Share Vulnerability.
Strong cultures form habits of mutual risk that drive trusting cooperation. They don't hide their weaknesses; they share them so members can improve together.

Skill 3: Establish Purpose.
Groups with superior cultures form narratives that create shared goals and values. These narratives "work like GPS signals" that guide groups toward goals.
These skills tap into the social power in the human brain by building group connection and then channeling that connection into action. Coyle's book is divided into three sections that focus on the impact of each skill and how they can be honed within an organization.
He shares fascinating stories about the cultures that support highly successful groups like the U.S. Navy's SEAL Team Six, Zappo's, and the San Antonio Spurs. He also offers cautionary tales that pinpoint mistakes made by unsuccessful groups, warns about pitfalls, and explains how even toxic cultures can be turned around.
Take-Away
The Culture Code, published in 2018, explains how diverse groups can learn to function with a unified perspective by adopting a strong culture. In this enjoyable read, Daniel Coyle dissects the human mechanisms that spark learning and collaboration and offers helpful suggestions to weave a tighter organizational culture.
Organizational Culture and Leadership
Edgar H. Schein wrote the first version of Organizational Culture and Leadership in 1985, and many consider it to be the definitive "textbook" about corporate culture. A Professor Emeritus at the MIT Sloan School of Management, Schein is a specialist in organizational development (OD) and culture and recognized worldwide for his research in this field.
Like Jaques, Schein takes a scientific approach and examines culture at the granular level. His book is divided into four sections with detailed segments that take a deeper dive into each topic. He provides a summary, suggestions, and questions to prompt deeper reflection at the end of each chapter.
Schein's intent is to inform the reader as broadly as possible about culture, a subject that is notoriously hard to characterize.
As he states in the first chapter, "If we can understand where culture comes from and how it evolves, we can grasp something that is abstract, that exists in a group's unconscious, yet that has a powerful influence on a group's behavior."
Although the book has an academic approach, it doesn't go over readers' heads. Schein follows a logical progression of concepts as he examines the structure of culture and provides case examples to illustrate his ideas. He was one of the first OD experts to delve into what it takes for leaders to change an existing culture that is limiting an organization's potential for success.
In 2017, Schein produced the fifth edition of this pioneering work, teaming up with his son Peter Schein, a strategy consultant with a background in corporate development. Together, they lead the Organizational Culture and Leadership Institute.
The book's latest edition builds on Edgar Schein's original three-level model for culture that helped define the field. It includes 25 percent new and revised content that addresses the ever-expanding universe of culture.
The book covers:
Defining the structure of culture
What leaders need to know about macro cultures
Culture and leadership through stages of growth
Assessing culture and leading planned change
Schein maintains that "leadership and culture formation are two sides to the same coin," stressing that leaders play a pivotal role in applying culture principles to company goals.
Take-Away
Organizational Culture and Leadership is an outstanding book for people who desire a thorough understanding of the powerful influence culture has on organizations. It also provides valuable insight into how culture factors into change management and offers new strategies about the subcultures that exist in every business.
Winning Behavior: What the Smartest Most Successful Companies Do Differently
Terry R. Bacon and David G. Pugh collaborated on several books of advice for business leaders seeking a competitive edge. They also worked together at Lore International Institute, a professional training and coaching firm that Bacon founded and is now part of one of the world's largest talent acquisition companies.
Their premise in Winning Behavior is that market leaders are businesses that uniquely distinguish themselves from their competition—and the most effective differentiator is employee behavior.
The authors assert that:
"Business development in the new age is increasingly a chemistry test, and the chemistry between the buyer and the seller is shaped by the seller's behaviors. Culture forms the basis for how most people in an organization behave most of the time."
Bacon and Pugh are quick to point out that behaviors alone are not substitutes for product quality or competitive pricing. But these are things that every good company has already addressed.
They contend that consistent and superior staff behavior is the only thing that allows customers to tell a company apart from its rivals with similar technical capacities, prices, and quality.
The book, published in 2003, explains that positive behavioral differentiation is hard to imitate when integrated throughout an organization. That's because competitors are either unwilling or unable to replicate it. "Knowing what to do is not the same as doing it."
Bacon and Pugh studied a wide swath of companies that successfully integrated behavioral differentiation. They discovered that the formula to make this change was remarkably similar across multiple fields. Included in the book are numerous case studies with observations about positive and negative behaviors that change the way customers view a business.
Readers are provided with an insider's view of how companies like Men's Wearhouse, SAS, Volvo, and Nordstrom utilized behavioral differentiation. The section of the book devoted to Southwest Airlines notes that entire books have been written about how that company's leaders found a way to not only stand out in a highly competitive field—but stay there.
The authors go on to explain that developing differentiating behaviors is only part of a winning game plan. The harder challenge is to maintain them, and they offer several strategies to sustain this critical market advantage.
Take-Away
The basis of Winning Behavior is that while there may be an abundance of capability in the market, deeply rooted behavioral differentiation is the thing that draws and retains customers. The book offers a fascinating glimpse into the market titans who have embraced this concept. And it includes practical steps that business leaders can take to understand customers' behavioral expectations.
Learn More with CultureWise
We rounded up some of the most insightful books about corporate culture to give business leaders a comprehensive view of the many facets of this topic. Each of these books has much to offer, and we highly recommend them all. At CultureWise, we constantly strive to build awareness about culture and other business matters and add value to the learning experience.
We invite you to stay up to date about important leadership and culture topics by subscribing to our weekly newsletter.