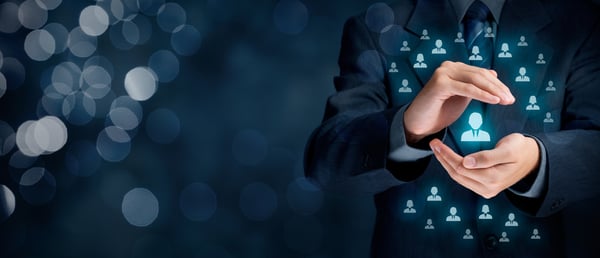 Do What's Best for Your Customer
In the classic holiday movie Miracle on 34th Street, a child asks the Macy's department store Santa for ice skates for Christmas. Santa advises the child's parent to buy the best quality skates to support a young person's feet. He then does the unthinkable – he sends them to Macy's prime competitor, Gimbels, in search of the item.
Although the term didn't exist when this movie was made, Santa followed a customer-centric approach. He put the customer and their needs first. Mr. Macy and his marketing team didn't come up with the idea. But they quickly recognized that the goodwill generated by this customer focus would translate to higher holiday sales.
Customer centricity is characterized as:
Doing what's best for the customer
Putting the customer first
Building a long-term relationship with the customer
Selling the customer what they need, not what you have to sell
Creating a great customer experience (CX).
Putting the customer first and satisfying his needs is not a new concept. Hotelier Cesar Ritz said in the late 1800's "the customer is never wrong." Around the same time, retailers John Wanamaker and Marshall Field flipped the expression to "the customer is always right." These businessmen understood that they had to give the customer what they wanted. This may have meant taking food back to the kitchen or overriding their policy to accept a returned item.
Providing a positive customer experience is still the primary business objective. In this digital age, we have lots of data about our customers, but they have a multitude of purchase options. Effective use of customer data and targeted marketing are valuable in providing great customer service. But the real key to consistently delivering a good customer experience starts with a company culture focused on the customer.
A Customer-Centric Culture
Author Denise Lee Yohn notes, "the most common, and perhaps the greatest, barrier to customer centricity is the lack of a customer-centric organizational culture." Most companies focus on products and sales, and the customer is the sole purview of the marketing team. But customer service needs to be at the heart of everything the organization does.
Mike Houghton, president of global technology services provider Logicalis, offers four ways to build a customer-centric culture:
Make the customer experience everyone's responsibility
Support the sales team in their customer interactions
Ask customers what they think
Personalize the customer experience
Who's Responsible for Customer Service?
Most organizations consider the customer the responsibility of the sales and marketing functions. But in a customer-centric culture, all employees are responsible.
All employees, regardless of their functional expertise, need to know who the customer is. They should understand the difference between customers and end-user consumers of the company's products. Educate your team on what you know about the customer, what they use the product for, and how they feel about it. Why do they choose your product or service over those of competitors? Share this information across the organization.
Employees also need to see how their work affects the customer experience. This should be obvious for sales and marketing teams. But finance and operational groups also need to understand their linkage to customers. How can they make it easier for customers to engage with the company? How can they enable quicker customer response, 24/7 information access, or clearer invoicing?
Think about providing opportunities to give employees insight into the customer experience. For example, can they do a ride-along on a sales call, attend industry conferences, or spend time in the store?
Developing annual customer experience goals for all employees is one way to focus their attention on what matters to the customer. Your entire team should be invested in understanding the customer's desires and requirements.
Support the Sales Team
Customer-centricity includes building long-term relationships with customers. It requires time spent listening to customers and getting to know them.
According to a Hubspot survey, 69% of buyers say that a positive sales experience means having the seller listen to their needs. Salespeople need to spend more time listening and less time talking about their products and services. They must ask questions and ensure they understand what the customer is saying.
Enable your sales team to develop these listening opportunities and cultivate long-term relationships. How can you free up salespeople's time so they can engage more with customers? Consider modifying procedures, eliminating red tape, and providing tools to streamline processes.
Consider linking sales compensation to customer retention and other measures rather than just sales. Retaining a customer is much less expensive than customer acquisition. Further, satisfied customers usually spread the word and become ambassadors for your business. As noted in Forbes,
"Keeping your customers happy will not only allow you to keep them on board but will afford you with an opportunity to better get to know them, learn more about them, and, in turn, gain more wallet share. In the age of big data, knowledge is king, and a customer-first approach will enable you to build authentic, open relationships through which you can learn about your customers' needs and then meet them."
Building strong relationships translates to customer loyalty, which drives lower costs. Less time and money need to be spent on cold calls, emails, and other prospecting techniques. Returning customers purchase more over time, and they refer others. They also tend to be willing to pay more rather than switch to an unfamiliar competitor.
Support your sales team by enabling them to do what matters most – listen to customers and keep them.
Pick Your Customers' Brains
Aside from you and your management team, no one knows more about your business than your best customers. Their success is tied to yours. Consider setting up a customer advisory board. Ask them to validate your product and service offerings. Let them weigh in on strategy, product positioning, and branding decisions. This lets you get to know them better and ensure that your products align with their needs.
In the consumer-packaged goods (CPG) world, manufacturers have learned that partnering with retailers drives increased sales and profitability. A McKinsey study noted that dialogue between manufacturers and retailers "should primarily be about growth and long-term priorities rather than cost concessions and quarterly numbers." Successful CPG companies don't just share consumer data with their retailers—they plan and execute joint strategic initiatives.
Sharing information with your customers about your plans and margins may seem antithetical. But again, their success goes hand in hand with yours. Perhaps you've had experience participating on a retailer's consumer advisory board. When a retailer asks your opinion about future product offerings, it cements your loyalty and desire to repurchase from them. The same holds for your customers.
Give Them the Customer Experience They Want
The key is giving the customer what they need, not necessarily what you want to sell them. Demonstrate business empathy, taking the time to understand their emotional needs. Treat them as valued business partners, not just transactions. And ensure that your products and services align with your customer's requirements and expectations. Doing the right thing for them and putting them first enhances your company's reputation.
By gathering and sharing customer information across your organization, you can tailor your offerings to meet their requests. Yet if you're listening carefully and getting to know everything about them, you may determine that what they ask for isn't what they need.
David Friedman, CEO of CultureWise, observed in his book Fundamentally Different,
"Sometimes doing what's best for the customer involves giving them advice they don't want to hear, even at the risk of losing their business."
It can also mean absorbing a short-term loss to build a long-term relationship with the customer.
If you've taken the time to develop the customer relationship, they see the integrity of your people and your business. They understand where you're coming from. And your honesty will translate to increased customer loyalty.
Culture is the Driver
A customer-centric organization starts with a management team committed to understanding and meeting customer needs. This customer-first attitude must then cascade throughout the organization. Behaviors such as showing integrity, careful listening, and being responsive need to be present as an everyday part of your culture.
To provide a great customer experience, you must first provide a great employee experience, evidenced by a strong company culture. McKinsey notes that,
"Successful customer-centric companies focus on open and transparent communication in the workplace and have leaders who build rapport with their employees. These organizations are driven by supportive leaders who challenge their teams to think differently and creatively, rather than settling for offering subpar service. They push decisions down to frontline associates and have open dialogues on what matters for them, their teams, and the customers."
Employee engagement soars when employees feel supported and empowered. Happy employees generally lead to happy customers. Ensure that your company culture encourages focus on doing what's best for the customer and contributes to a positive employee experience.
_____________
CultureWise can help you create and implement a customer-centric company culture. Contact one of our specialists for more information. And visit our website for resources on company culture.