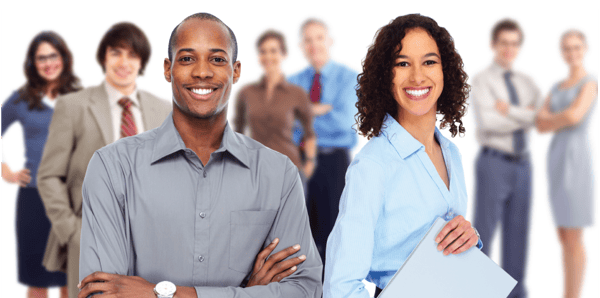 4 HR Trends Every Company Should Be Watching in 2021
By Candace Coleman, CultureWise Content Manager
In 2020, the work world became more people-focused than profit-focused in response to the pandemic. Employers mapped new strategies to care for and connect to their staff as everyone rode out months of uncertainty.
As the crisis recedes, profit and growth have reemerged as top goals—but the method to achieve them is evolving. That's because the past months have made many leaders keenly aware that prioritizing the employee experience is crucial to the success of their companies.
Now HR teams are gearing up to facilitate more employee-centric business tactics. At the core of each growing HR initiative is the endeavor to deepen the relationship between employers and the people who work for them.
The rapidly transforming workplace is laced with issues accelerated by COVID. Four of the most prominent HR trends for 2021 and beyond are directly related to events that unfolded over the past year and a half:
An Emphasis on Employee Mental Health and Wellbeing
Adapting to a More Fluid Workforce
New Perspectives on Internal Mobility and Corporate Learning
Creating the New Hybrid Office
1. Emphasizing Employee Mental Health & Wellbeing
People have always dealt with mental health and wellbeing issues at work, but the pandemic magnified existing problems and created new ones. As COVID ebbs, these concerns remain a focal point.
Mental Health America's "Mind the Workplace 2021" report states that:
9 in 10 employees say their workplace stress affects their mental health
3 in 5 employees claim they're not receiving adequate employer support to help manage stress
4 in 5 employees feel emotionally drained, which is an early sign of burnout
In 2020, employers witnessed first-hand the toll that barriers to peace of mind and wellness have on people's ability to perform. This new perspective is causing many companies to seriously invest in wellbeing initiatives and long-term plans for providing mental health resources.
A recent article in The Philadelphia Inquirer reported that more than 16 percent of U.S. employers expanded their mental health benefits because of the pandemic. And 83 percent of those companies plan to permanently keep these added services.
Some things employers will continue to cover are:
More mental health visits
Increased Employee Assistance Program benefits
Access to online therapy
Relaxation/meditation apps like Calm."
Businesses offering this kind of aid demonstrate compassion, and it's a smart business move, too. The World Health Organization estimates over $1 trillion per year in lost productivity due to depression and anxiety. WHO research also notes that for every dollar put into scaled-up treatment for common mental disorders, there is a four-dollar return in improved health and productivity.
More people are prioritizing their wellbeing after surviving the pandemic. Companies that provide mental health and wellness programs as standing benefits will increase employee engagement as staff members feel more supported. And businesses that highlight these programs during recruitment will have a competitive advantage in attracting new talent.
HR will be command central for the infusion of these resources into the workplace and should work to normalize the programs to eliminate any stigma. As David Rodriquez, Chief Human Resource Officer at Marriott, puts it, "these leaders need to design wellbeing into the work itself."
2. Adapting to a More Fluid Workforce
One of the outcomes of the pandemic was a significant increase in the freelance or contract workforce as people scrambled to cover financial needs during the lockdown.
Many individuals forced to switch to this alternative work style in 2020 found they preferred the flexibility it affords and aren't transitioning back to traditional employment. Companies are also seeing benefits in having temporary or part-time skilled help, including:
The ability to pull in short-term experts for services not regularly needed
Agility in scaling their team to meet market demands
Fewer benefits expenses
There is a growing realization that this is model is not just viable; it is often the best option for all parties. Peter Miscovich, JLL Consulting's Managing Director of Strategy and Innovation, predicts contingent workers will make up as much as 80 percent of the workforce by 2030.
He believes that in the very near future, there will be a surge of "Hollywood Model" employment. In other words, gig workers will be organized on the internet on a project basis in the same way that movies are made.
But there is a downside to a fluid workforce that HR teams must take into account and manage.
Employers often consider independent workers short-term assets and don't try to build a relationship with them. Consequently, many freelancers find it hard to collaborate with internal staff and feel limited access to information makes them work less effectively.
To address this issue, HR teams should evaluate how to extend their corporate culture to embrace freelancers as much as possible while they're on board.
A strong organizational culture can function as a support system for contract workers just as it does for full-time employees. It can help temporary staffers join forces with team members and tap into necessary resources more quickly and easily.
3. A New Look at Internal Mobility & Corporate Learning
As many people jump into the gig workforce and others make career changes, companies find it increasingly hard to recruit and retain permanent staff. In response, more HR leaders are ramping up development opportunities. Then they're using upskilled internal talent to fill open or newly created positions instead of trying to hire from the outside.
Not only are leaders beginning to realize the hidden potential within their existing staff—this trend is cost-effective. SmartRecruiters' "State of Internal Recruiting 2021" reports that companies save an average of $6,000 per hire when hiring from within versus recruiting an external candidate.
In the year ahead, HR professionals will spend more time evaluating what kinds of capabilities their businesses will need. Then they'll develop training for corresponding skills that will help employees qualify for new roles. Much of the development will focus on building soft skills, like communication, teamwork, and leadership, that enable staff to assume broader responsibilities.
Methods of learning are changing, too. There is a growing use of virtual reality (VR) training in HR's teaching toolkits. The highly effective coaching method is beginning to replace some traditional e-learning solutions and can be less expensive and logistically challenging than in-person training.
As Jeanne Meister, Managing Partner of Future Workplace, wrote in a January 2021 Harvard Business Review article:
"While traditional educational tools can sometimes feel boring or artificial, immersive VR training creates highly memorable, impactful experiences—without the potential risk of real-world consequences."
Meister noted that a 2020 PwC study found that employees completed VR programs up to four times faster than in-person training and 1.5 times faster than e-learning programs. People\'s quicker absorption of the material is mainly because the immersive experience makes it easier for them to stay focused.
But getting accustomed to VR is a learning curve in and of itself, and many employees may be wary of it initially. It will be HR's responsibility to normalize this new business educational experience.
4. The New Hybrid Office
The pandemic didn't make the traditional office obsolete, but it may have forever changed the workplace footprint in many industries. That's because the remote work patterns established during COVID have proved effective and desirable to both employers and workers.
Findings from PwC's January 2021 US Remote Work Survey include:
83% of employers say the shift to remote work has been successful for their company
71% of workers felt working remotely at least part of the week was beneficial
Less than one in five executives want to return to the office as it was pre-COVID
In the future, most companies will permanently adopt some equation of remote and on-site work. Consequently, the hybrid office will emerge to accommodate the new hybrid workforce.
In a recent Forbes article, CBRE executive Julie Whelan predicts that the hybrid office will evolve to develop "the exact balance of corporate headquarters space, satellite space, and team hub rooms depending on the industry and city." In places where commuting is easy, more workers will be office-bound. But in locations with long commutes, satellite and home offices will prevail.
The PwC survey revealed that 87 percent of executives expect to make changes to their real estate strategy over the next year. Many plan to consolidate office space in expensive areas and open more satellite locations.
Interestingly, while some executives expect to reduce office space, the study showed that 56 percent expect to need more over the next three years. This is because some companies are planning to "reinvest the remote work dividend in new ways" to create more valuable experiences in the office.
This reconfiguration of the workplace will require HR teams to adapt policies and evaluate office space usage and scheduling. They will also be confronted with maintaining a cohesive company culture in a fragmented working environment. Their agility will largely dictate the level of employee engagement amid significant changes to when and where people do their work.
The Role of Company Culture in HR Trends
A few decades ago, corporate culture was considered by many to be a trend. Most industry leaders now recognize that a strong culture is an enduring force that helps companies prevail when faced with new waves in the workplace.
A vibrant company culture will help HR teams make the most of workforce trends in the ongoing evolution of employee relations.
David Friedman created CultureWise to help company leaders build and sustain a high-performing culture within their organizations. This unique system makes it easy for executives to implement arguably the most critical aspect of their business. Explore the website to learn how the program has helped improve companies across North America.
Friedman's book, Culture by Design, was the inspiration behind the CultureWise system. In it, he introduces his eight-step framework to create an extraordinary company culture. Read about his approach with a free, two-chapter download of this valuable resource.
And stay informed about current culture news with a complimentary subscription to Culture Matters, the CultureWise blog.