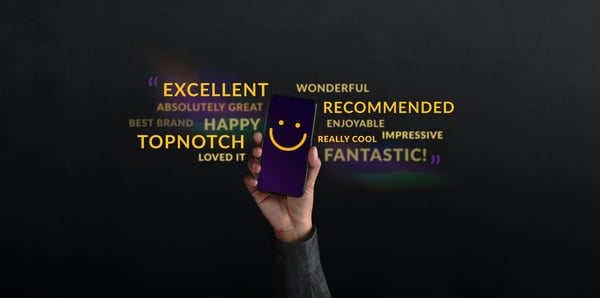 Make Legendary Customer Service Part of Your Company Culture
By Carole Wehn
Let me tell you a story…
Few things are more powerful than a good story. It could be a classic fable read to your children, or a tall tale exchanged over drinks with friends. Stories have staying power. They make information alive and memorable.
What stories do your customers relay about your company? As consumers, we often rate our purchases and service providers. Yet, what's meaningful is not how many stars you receive. Five stars versus four don't tell a whole lot. A more accurate indicator of your company's success is in the stories customers tell.
Think about the legend of George Washington chopping down the cherry tree. Which is more memorable: learning that George was an honest man or hearing the tale about not telling a lie when asked about the tree?
The same goes for your customer service. It's great if your customers tell their friends, "they have good service." But what if they told a story about how one of your executives picked up the eyeglasses they left on a train and returned them? The latter evokes positive feelings about your company, not just customer satisfaction.
Emotional connections make customers more inclined to choose and stay with your company.
Customer interactions that generate stories shouldn't be one-and-done. Instead, they should be part of how your company routinely deals with clients. And that only happens when legendary customer service is an integral part of your company culture.

Taking Customer Satisfaction to the Next Level
Most likely, your company culture or core values emphasize the importance of customer service. Many companies advertise:
24/7 customer service call centers
Chatbots for immediate response
Free shipping
Free returns
Next-day (or even same-day) delivery
Consumers have so many choices that it's hard to make your products and services stand out. Yet 24/7 customer service won't make the customer feel that the seller has their best interest in mind. And it won't prevent the customer from shopping around the next time they need the product or service. Without a personal connection to the seller, they are likely to move on to the next provider that offers the lowest price and free shipping.
Developing a Personal Connection
A personal connection starts with developing a deep knowledge of your customer.
Consultancy EY notes in their blog,
"The consumer experience is rapidly evolving from a transactional process focused simply on shopping and buying, to a model built on deep, enriching relationships at every step of the customer journey.
Retailers and brands must become an indispensable part of consumers' lives. They must build a sophisticated understanding of the way consumers live, eat, shop, work, and play – and use this knowledge to provide value in the right place, at the right time."
By establishing personal connections with your customers, you understand which product or service best fits their needs. You also recognize how to make the service encounter more than just a transaction. You comprehend the customer's expectations and what it takes to exceed them and delight the customer.
Many companies think that meeting expectations is excellent customer service. Most consumers probably agree. But doing what you are supposed to do is not legendary. Being legendary means delivering service consumers weren't asking for and didn't even know they wanted. You want to please them on an emotional level.
After all, the goal isn't to have customers be "satisfied." The goal is to have them raving about you and telling stories about you.
The COVID Impact
The COVID-19 pandemic forever altered the customer purchasing dynamic. The closure of stores, businesses, and public spaces turned consumers to online shopping and delivery services. In addition, supply chain disruptions prevented the fulfillment of orders of a multitude of products.
Suddenly it became nearly impossible to establish personal connections with customers when they no longer could physically enter your facilities. Further, you could not stock their desired products and meet their needs.
Despite re-openings and replenished inventories, some purchasing behavior is not reverting entirely to where it was pre-pandemic. As EY observed,
"To stay relevant, companies need to act now and set up a growth strategy focused on what they should do now, next, and beyond COVID-19 to reframe their future around evolving consumer behaviors. Companies that act immediately will build lasting and meaningful relationships with consumers.
Those who fail to respond and continue with their business-as-usual pre-pandemic approach will risk being left behind."
Companies are challenged with creating personal relationships when buyers are online, trade shows are eliminated or viral, and sales calls are over Zoom rather than in-person.
When Legendary Goes Viral
One of the objectives of delivering legendary service is to have customers tell stories about your service.
A 2014 incident involving eyeglass maker Warby Parker is an example of a legendary customer service story going viral. A customer raved on Facebook about how an executive of the eyewear manufacturer picked up and returned the glasses he accidentally left on a train. It's also a great example of a senior executive "walking the talk" of their company values.
TD Bank devotes a section of their website to stories of legendary customer service as told by bank representatives and clients. They claim, "TD has long been synonymous with legendary service and convenience. It's our strategic advantage."
Unfortunately, customers will also relay stories of poor service, and social media is full of such anecdotes. Blogger Andrew Kokes notes in Forbes,
"Positive social interactions with customers can help businesses win loyalty and drive business success. However, when a business is lax about managing social interaction, or worse, makes a wrong move on social media, it can face swift, business-threatening retribution from unhappy consumers."
It's critical to promptly address positive and negative comments posted by customers on social media. Businesses need to own what happened and resolve problems without making excuses or pointing fingers.

Legendary Customer Service on Social Media
Kokes identified five key components of a legendary customer experience in social channels:
Speed: The expected response time for a customer service interaction has reduced dramatically. Customers expect – and often receive – instant responses.
Empathy: Customers often come to social media to vent and be heard. When customers are disappointed in your product or service, they expect you to not only apologize but show them that you genuinely care about them. They want you to not only fix the problem but make them better off than they were before.
Fun: Social media allows your brand to show its fun side. Keep it light and encourage customers to feel they can connect with you. Use emojis and video just as people do with personal social media accounts.
Surprise: People use social media to relate to one another, and they probably don't expect a corporate response to their posts. Use social media to surprise and delight customers with your posts and answers to their concerns.
Resolution: Ensure your technology enables swift response and problem resolution. Use chatbots for simple, routine questions, and provide a seamless transfer when live agents are needed to address more complicated inquiries.
Show Customers You Care
Author and consultant Rick Conlow blogged,
"Legendary service occurs when a company, through its employees, serve the customer so well that the customers receive a powerful, positive, and emotional reaction that propels them to repeat the experience."
Delivering legendary service requires employees to treat customers in a way that shows they genuinely care. Making personal connections and building relationships rarely costs anything extra. It also doesn't take an inordinate amount of time. But it requires a conscious effort to make customers feel appreciated and important.
It's great when you resolve big problems for customers. To a certain extent, it's expected. But you can also make a huge impact in unexpected ways by noticing and acting on little things. For example, customers won't forget small but meaningful gestures, like follow-up calls, hand-written notes, or personally handling a minor issue when you could have delegated it.
Showing that you notice and remember the little things is a great way to stand out when you can't have the face-to-face customer interactions you enjoyed pre-pandemic. It reminds both parties that they are dealing with human beings on the other side of the transaction.
Encouraging Your Team to Be Legendary
Developing a company culture of legendary customer service starts with making sure your employees remember that their customers are human. They need to establish personal connections and understand their customers' wants and needs. They must know the customer's expectations to understand how to exceed them.
Additional ways to nurture a legendary service culture include:
Empower your team to solve problems. Give them tools and authority to make decisions. Customers don't want to wait for "corporate" to resolve their issue.
Supply your team with note cards and set goals for how many personal notes they should send in a given timeframe. These should be sent to internal as well as external customers and can be used to extend meaningful appreciation to teammates.
Treat your employees with empathy and encourage them to do the same with their customers. Help them put themselves in their customers' shoes and think about what would "wow" them.
Foster a culture of creativity and problem-solving.
Make rapid response time part of how you do business.
Developing a Culture of Legendary Service
CultureWise CEO and author David J. Friedman wrote about the concept of exceptional service in his first book, Fundamentally Different,
"When people deal with us, they don't necessarily know or care about our reputation, our culture, our strategy, or our values. The only thing that's "real" for them is the current experience they have with us.
Amaze them with your helpfulness. Surprise them with your friendliness. Delight them with your warmth. Cause them to look forward to their next opportunity to connect with you. Make the experience one that prompts them to tell stories about how wonderfully they were treated."
Friedman's experiences in operationalizing his own company's culture led to his second book, Culture By Design. This volume outlines his roadmap for building high-performing culture.
At CultureWise, we use this roadmap to help companies craft a culture of legendary customer service. Find resources for improving your company's culture and videos of CEOs who've successfully changed their companies' cultures at culturewise.com. And stay abreast of the latest trends in company culture by subscribing to our blog.