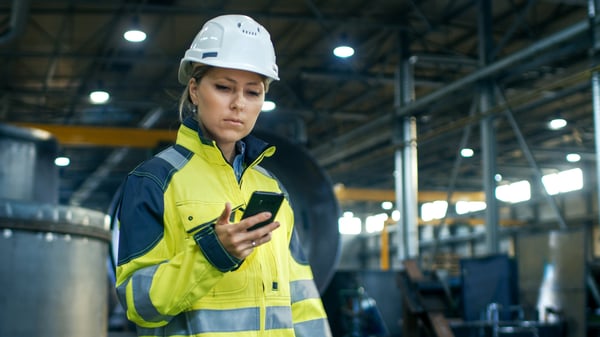 There's an App for that: The Top 7 Apps to Enhance Workplace Culture
You name it; there's an app for it. From those targeting leisure and family to health and finance, most people's phones have dozens of apps to navigate and keep track of the things most important to them.
In business, apps assist companies in multiple strategic areas, including inventory, bookkeeping, scheduling, and production. Their convenience, speed, and effectiveness make them indispensable in the modern workplace.
It's no wonder that many leaders find apps particularly effective in engaging and inspiring their staff. And the market is teeming with apps designed for employees, each with a different slant and targeting various needs. But the problem for many companies is determining which one is best for their team.
We canvased the field of apps that enhance workplace culture and developed a list to help companies make the right choice. But first, let's review a few basic concepts about these tools.
What's a Workplace Culture App?
A workplace culture app, often broadly called an employee engagement app, is software employers provide to their staff to install on their cell phones and tablet devices. One of its primary purposes is to help employees stay connected with the company and one another—whether they work under one roof or comprise a remote or hybrid team.
These helpful apps can fill numerous other needs, including:
Keeping employees up to date on company news
Helping them share information with their peers
Boosting productivity
Sharing project milestones and achievements
Increasing morale
Facilitating training techniques
They also offer leadership a way to take the pulse of their workforce, enabling them to course-correct problem areas.
These apps are particularly effective because they have the potential to impact an entire workforce. Unlike other office communications platforms, these tools can reach beyond the office to employees who don't use a computer to perform their jobs or lack a company email address. Consequently, these apps can help unify workers in retail outlets, factories, construction, healthcare, and other deskless roles.
How to Choose a Workplace Culture App
Many of today's leaders rightly identify workplace culture as a priority in their organizations. Consequently, companies producing apps that measure and improve culture are churning out solutions to help leaders achieve their goals in this area.
Many of these apps offer niche solutions. So to select the appropriate one, company leaders should identify the results they want to achieve. For instance, they might consider whether they want to:
Continuously take a pulse on their employees' feelings toward the organization
Monitor performance statistics and measure them against employee feedback
Support and sustain an ongoing culture initiative that drives success for employees and the organization
Focus on DEIB (diversity, equity, inclusion, belonging) issues
Bring more warmth and connectivity to the workforce
In addition to selecting a product that targets their company's needs, leaders should also ascertain that the app offers the following features:
A responsive design for easy access
Customizable content
Real-time notifications
Learning materials to improve engagement
An appealing experience to encourage usage
The Top 7 Apps to Elevate Workplace Culture
As noted, many apps that address organizational culture are on the market. Our list of seven isn't a ranking, but it describes the apps that companies with various goals might find to be the most helpful.
Blink
Blink is an employee engagement app that focuses on frontline staff. It allows teams to share videos, announcements, and alerts and gives workers the option to like or comment on the content.
Blink can also deploy employee engagement surveys, and it can be integrated with other popular productivity apps. In addition, it offers a custom workflow system and includes an employee directory so workers can easily connect.
The Blink Feed, a type of social media that consolidates all the communication events in a workplace, is one of the main things driving this app's popularity with workers. It's designed to encourage employees to continually check in and stay connected.
Energage
Energage offers a 24-question survey that helps leaders measure the culture in their organization. Clients have the option to customize the survey to obtain the specific data they seek. Then Energage delivers an analysis of what is helping or hurting an organization and recommends prescriptive actions.
This app allows leaders to share survey results strategically with management team members. And it offers ways to empower workers to take ownership of culture initiatives.
Energage lets companies compare their survey data against industry leaders and competition to identify blind spots and competitive advantages. And it encourages customers to use this data to help attract and recruit top talent.
Energage aims to "build cultures to define the workplace as well as develop the employer brand." This platform is popular with corporate giants and counts Hubspot, Microsoft, and eBay among their clients.
CultureWise
This comprehensive app was designed to facilitate the CultureWise operating system, a program that helps companies develop and sustain a high-performing workplace culture. This innovative system guides business leaders in determining and defining the behaviors that will enable their people to thrive. Then, it helps companies create the rituals that fortify those behaviors, so they become ingrained in the culture.
The CultureWise app reinforces this unique process by pushing appealing, easy-to-absorb teaching content to employees throughout the week. Its features include short quizzes on specific behaviors, weekly insights by team members, inspiring 1-minute videos, a peer recognition and acknowledgment section, daily tips, and a coaching guide with helpful ideas for team leaders.
The content focuses on a single behavior each week, so the entire workforce is in sync as they reinforce and improve their culture. It offers an effective way to integrate new hires and unify a multifaceted team operating in multiple locations. The CultureWise app is compatible with EOS and is available in English and Spanish.
EngageWith
Developed for Microsoft, this app augments company culture with employee rewards and recognition. EngageWith was created to celebrate achievements and milestones and help employees get to know their teammates better. The app integrates with Microsoft Teams and Slack to augment existing processes.
EngageWith is designed to make recognition fun and helps organizations build a culture of appreciation and feedback. It offers peer-to-peer recognition, a public platform for shout-outs, ways to recognize birthdays and work anniversaries, and incentive rewards.
Leaders can also use EngageWith to deploy pulse surveys to get a read on their workforce's engagement level. But the primary purpose of this app is to offer multiple ways for employees to applaud and reinforce their teammates.
Enborder
The Enborder employee app was primarily developed to improve the onboarding experience for new employees. The platform helps immerse new hires into the company by automating their tasks, guiding them through virtual tours, and providing instructional videos and interactive communications. It can be especially useful to help remote or hybrid team members adjust to an asynchronous work model.
Beyond onboarding, the Enborder app can assist employees through other transitions, including offboarding and reboarding, promotions and other internal moves, mergers and acquisitions, relocations, and workplace emergencies.
WeThrive
WeThrive is based on a corporate psychology framework that converts motivational theory into a manager assistance tool. It assesses employees' engagement by surveying areas relating to their cognitive, capability, connection, and confidence levels.
Leadership can see the data generated by the app in heatmaps and word clouds. Coaching recommendations for managers, including goals and actions, come directly from the culled data.
This app offers assessments that measure engagement; mental health and wellbeing; and issues concerning diversity, equity, and inclusion. Managers can survey their direct reports at any time, identifying the positives as well as gaps in performance and job satisfaction. WeThrive is offered in three tiers at different price points to fit various budgets and priorities.
Peakon Employee Voice
Workday describes its Peakon Employee Voice app as a "fully integrated intelligent listening platform" that helps employers measure employee sentiment in real-time. Like many other apps in this market, it relies heavily on surveys to gauge how employees feel about their workplace.
The platform is distinctive because it is committed to accessibility and inclusion and even offers options for the blind and partially sighted. This feature is notable since ease of use significantly influences employee participation rates.
Peakon also can be tailored to meet specific industry needs. Currently, it offers solutions for businesses based in finance, manufacturing, retail and hospitality, technology, professional services, non-profits, and the public sector.
Ensuring the App's Success
The most important point for leaders to remember is that a workplace culture app doesn't take the place of a culture initiative in their organization. These platforms are tools to facilitate and strengthen a company's culture program.
Before purchasing an app, leaders must first commit to an intentional, ongoing focus on this critical part of their business.
Three additional steps will help guarantee a workplace culture app's success:
Drive participation
After selecting the app that will help meet their company's engagement and performance goals, leaders must motivate their team to embrace it. No matter how well this tool is designed, it won't be effective without their team's enthusiastic participation. Employees are much more likely to buy into using the app if they believe it will improve their work experience.
2. Simplify access
Those charged with selecting the app should preview them to ensure that the one they're buying is user-friendly and glitch-free. It's also essential to make it simple for people to learn how to install and use it. Many app companies provide tutorials to share with employees. The purchaser should create a system to deliver these instructions and a way to get assistance if necessary.
3. Lead by example
Employees follow their boss's lead. Executives should rally their management team to set a good example by regularly using the app. These role models can demonstrate that the app is easy to understand, enjoyable, and helpful.
Following these steps will give an employee engagement app the best runway for success in an organization. Once it becomes an intrinsic part of how things are done in the company, a workplace culture app can have a lasting positive impact on its staff.