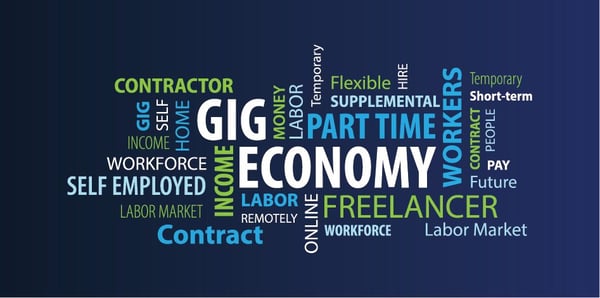 The Pros and Cons of the Growing Gig Workforce
By Candace Coleman, CultureWise Content Manager
Independent workers have always had some acreage in the professional landscape, but they were a niche group. Although their number steadily grew over the past decade, gig workers still weren't considered part of the mainstream business world.
Things changed when the pandemic forced millions to work from home, add second jobs, or launch new careers out of necessity.
Suddenly, the advantages of alternative work models became apparent to a much larger group of people. Many discovered they could earn a living this way and preferred working for themselves. As the health crisis began to subside, the popularity of alternative jobs continued to soar.
Now, independent (aka gig, contract, contingent, or freelance) workers form a substantial sector of the business population—and the momentum has just begun. The forecast for this workforce trend is continued growth.

Why Independent Work Is on The Rise
Many conditions contribute to the swelling independent ranks, including various socio-economic changes. But the two main drivers behind alternative job growth are:
Technical Tools
When the Industrial Revolution transformed the working world, structured payroll jobs and "lifer" employees became standard. Now, the digital revolution is playing a key role in reversing that shift.
Work is becoming less centralized with a reduced need for people to be tethered to a location or an organization. Increasingly sophisticated technology is giving workers many more options beyond long-term, on-site jobs.
4 Tech Advances Boosting Gig Workers
1. A boom in employment websites that cater to freelance workers
Flexjobs, Upwork, Fiverr, and Freelancer are currently the largest and best-known of these platforms, but there are scores more. And behemoth LinkedIn is launching Marketplaces in September to capitalize on the need for short-term, white-collar jobs.
Other sites go beyond generic freelance opportunities and target specific types of jobs and industries. Traditional employment sites like CareerBuilder and Indeed are also in the mix with more nuanced sections for gig workers.
2. An abundance of blogs, articles, and online advice for a freelance audience
Experts provide loads of content to help gig workers navigate the alternative work world. Legal trends, tax issues, solo branding, cash flow issues, and the value of virtual assistants are some of the most-searched-for topics.
3. Gig economy apps and platforms for workers and employers
These resources include end-to-end solutions for hiring gig workers, crowd-sourced project execution programs, collaboration tools that pool the right talent for specific jobs, and workflow and compliance solutions for freelance help. Business management platforms like Indy help gig workers with technical aspects of self-employment, including contracts, forms, invoices, proposals, and sales.
4. 5G Internet
Lack of internet speed and connection in more rural areas or smaller communities has limited where people (including most freelancers) can effectively work remotely. But that's changing because the fifth generation of broadband cellular service, labeled 5G, has been gaining traction since 2020.
Offering significantly faster data transmission, more sensitive connections to platforms that support freelancers, and the capacity to connect more devices, 5G will give independent workers an even stronger foothold in the marketplace.
Flexibility for Workers and Employers
Alternative workforce options are often win/win situations for the people filling these temporary positions as well as those hiring them. The biggest appeal for both sides is added flexibility.

Advantages for Independent Workers
Many people work several part-time jobs to make ends meet, but most freelance workers choose their path because of the freedom it affords.
According to a McKinsey Global Institute report, 30 percent of freelancers actively opt to derive their primary income from independent work. And 40 percent are "casual earners" who do gig work for supplementary income by choice, not out of necessity.
Some of the plusses independent workers enjoy are:
The ability to set their own schedule with hours/days/seasons that suit their lives and needs
For remote freelancers, the choice of where to perform work and an expanded client reach
Being one's own boss
Choosing projects and clients best suited for their skills and temperament
Not being limited to one skillset (61% specialize in two or more talents)
Faster growth opportunities and more exposure
The benefits are enticing, which explains why the McKinsey research showed that roughly one in six people in traditional jobs would like to work independently. It seems the gig grass looks greener for over 16 percent of nine-to-fivers.
The Appeal for Employers
The alternative workforce allows employers to apply a more agile, creative, and focused approach to achieving organizational goals. Some of the advantages of having expanded employee options are:
Reduced HR costs
Less outlay of paid benefits and taxes
The ability to strategically match talent with specific short-term projects
The opportunity to hire experts for services not needed regularly
Agility in scaling a workforce to meet shifting market demand
Less workspace overhead expense
Former staffing executive Jon Younger sums up the benefits of hiring gig-workers in Forbes:
"The regular employee premium we pay in time, cost, and mindshare provides less and less worth. The value gap between a top employee and a top freelancer or freelance team is shrinking. Freelance solutions offer a realistic and attractive alternative to traditional staffing."
The Alternative Workforce: A Cross-section of Talent
Free-agent employment is one of the twenty trends predicted to shape the next decade in Intuit's 2020 Report about the future of small business. They anticipate that contingent workers will exceed 40 percent of the workforce in ten years—other experts expect an even higher number.
Who are all these people?
Independent workers are popping up in every field and most professions. The McKinsey report, the Gig Economy Data Hub, and the 2019 Deloitte Human Capital Trends Study provide snapshots of the various sectors of independent workers:
Millennials represent roughly 25 percent of the alternative workforce
In addition to various blue-collar fields, doctors, therapists, lawyers, accountants, designers, technical professionals, consultants, educators, and writers have significant representation in the alternative work world
Gig work is almost equally divided between men and women
On average, the non-standard workforce is more educated than the overall workforce
Gig workers are more likely than traditional workers to live in an urban area
Freelancers' earnings are similar to or above those of traditional workers (scaled to time spent working)
Full-time independent workers are joined by flex-time freelancers, many of whom are retirees reentering the workforce, people caring for children and aging parents, and individuals going back to school
33% of companies use alternative workers for IT, 25% for operations, 15% for marketing, and 15% for research and development
How Companies Are Adapting to the Changing Workforce
With a legion of independent workers deployed in just about every industry, the typical organization's tent has gotten a lot bigger. To maximize profitability, employers need to find ways to efficiently blend the efforts of short-term contributors and payroll staff.
Over 40 percent of the employers who responded to the Deloitte study survey said they considered this issue important. But only 28 percent believe they are ready to address it:
"Our research suggests that most organizations look at alternative work arrangements as a transactional solution, not as a strategically important source of talent.
Only 8 percent of our respondents said that they had established processes to manage and develop alternative workforce sources
54 percent of respondents said they either managed alternative workers inconsistently or had few or no processes for managing them at all
These organizations are using alternative work tactically as a way to 'fill slots,' not strategically as a long-term solution for the future."
In essence, Deloitte's findings show that engaging alternative workers is strategically harder than it looks. The report recommends that companies move beyond managing contractors and freelancers to deliberately optimizing them—and doing it well.
The Challenges of a Gig Workforce
For all the benefits realized by independent workers and the people who hire them, there are drawbacks for both groups in this professional arrangement.
Disadvantages for the Freelancers
Historically, employers have considered independent workers as short-term assets and don't try to build a relationship with them. Consequently, freelancers frequently feel like outsiders as they fill temporary needs within an organization.
Often, contract workers are hired with little or no onboarding or training to provide orientation. Many find it hard to collaborate with internal staff and feel they aren't equipped with information that could help them work more effectively.
Working conditions like these may negatively impact performance, which is detrimental to both parties. And freelancers who manage to do a great job without internal support often leave with a bad image of the employer. They're not only less likely to return if asked; they're also prone to leave poor reviews on independent workplace platforms. Word gets around.
Downsides for the Home Team
Employers who don't connect with freelancers face more than disappointing results and a tarnished reputation. If they don't make an effort to blend independent workers with their full-time staff and build positive relationships, they also risk disengaging their employees.
Resentment can build when management doesn't communicate the reasons behind hiring outside help and how independent workers can benefit the team. Traditional staff may conclude that the plum jobs are going to outsiders and that their boss lacks confidence in their ability. This kind of information vacuum can diminish morale and reduce productivity.
Why Including Free Agents in Culture is Important
Employers are already learning how to adapt to the new normal of managing remote full-time staff. But the increasing number of freelance workers adds another layer of complexity for leaders aiming for a cohesive effort among the people who work for them.
Independent workers inherently have a weaker connection with an organization than traditional staff members. Without assistance, their impermanent status can dilute their ability to contribute and the overall success of the partnership. Employers must nimbly adapt to provide everyone involved with a positive work experience.
While it may sound like an oxymoron, a strong corporate culture is the key to bringing out the best in independent workers.
A high-performing culture is built on a framework of behaviors that drive success, including collaboration, communication, and prioritizing teamwork. Leaders can use their company's culture to help freelancers seamlessly mesh with the internal team.
Syncing independent and internal staff through culture increases the potential for transparency, positive relationships, and better work outcomes. Freelancers are more likely to return if asked and become new advocates for an inclusive company.
Welcoming Freelancers into Your Culture
A robust company culture is usually the result of careful planning by leadership. They achieve this goal by intentionally shaping a culture that will make individuals and the organization successful. When a culture initiative is done well, it is the basis for an engaged, motivated, and results-oriented staff.
In 2020, many leaders successfully leveraged their culture to accommodate a largely remote workforce. They need to use a similar strategy to maximize independent worker relationships.
Leadership can use company culture in various ways to bring independent workers into the fold, including:
Consider screening for culture fits with independent workers, just as with full-time staff. Finding people who can easily work in harmony with current employees is just as important as the skill they bring to the table. Independents who fit with the culture will hit the ground running.
Devise an onboarding process for freelancers to help indoctrinate them into how things are done at the company. This will give them background and context that will help them to navigate collaborative work.
Do more than provide written statements about the culture; include them in group rituals that reinforce it.
A strong culture is built on transparency. Be open and honest with internal staff about the positive impact independent workers will have on the company and the team.
Assign a veteran staff member as a mentor and culture ambassador to an independent worker. This person can act as an informal sounding board and resource and is a more personal connection to the company than the HR office.
Coach managers to utilize the culture framework in independent/in-house team collaboration.
Maintain open channels of communication and provide clear expectations. Ask for and provide feedback often.
Remember to provide meaningful acknowledgment. Showing appreciation for doing good work demonstrates to freelancers that they are valued.
Using company culture to unify a team that blends existing staff and independent workers will pay off in multiple ways. It's a powerful method for companies to make the most of the evolving work world.
CultureWise: A Great Resource
Learn more about how to build a vibrant, high-performing culture by exploring the CultureWise website, accessing a free, two-chapter download of Culture by Design by CultureWise founder David Friedman, and subscribing to the weekly CultureWise newsletter, "Culture Matters".