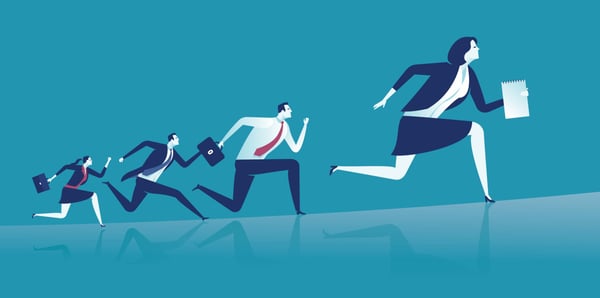 Satisfy Your Customers by Being a Fanatic about Response Time
When was the last time you called your company?
No, not to check in while you're out of town. When was the last time you called your company to experience it as a prospective customer would?
Calling your main number, sending an inquiry through your website, and even applying for a job online will give you significant insight into your company culture. It will also let you know whether your employees live up to the culture you believe to be in place.
What does your customer experience?
How many times does the phone ring?
How warm is the interaction between you and the person answering the phone or email?
How quickly do you receive a response to your email inquiry?
Was your question or issue resolved satisfactorily?
In the war for talent and customers, you cannot afford to miss opportunities. First impressions and the timeliness of response may determine whether a top candidate will apply for a job a customer will do business with you.
Service Expectations are High—but Not Being Met
The state of customer service response times is bleak. The 2019 State of the American Small Business Survey done by Broadly reported that 55 percent of businesses feel they have one hour or less to respond to a potential customer before that person moves on to a competitor.
Not surprisingly, a third of surveyed consumers expect an answer in one hour or less for a company to earn their business. And half of consumers give up on a business if the response takes six hours or more.
Statistics on email responses are even more alarming.
A study done by SuperOffice earlier this year found that:
62 percent of companies don't respond to customer service emails at all
90 percent of companies don't provide an acknowledgment to the customer that they received their email
97 percent don't send a follow-up email to ensure that the customer was satisfied with the company's response
Clearly, there are opportunities to stand out from the pack when this is what your competition is doing!
Set Rules for Customer Response Times
In today's fast-moving world, don't be content with your company's current customer response times. After all, SuperOffice found that the average response took over twelve hours!
Work with your team to establish response rules. For example, various companies have rules that every phone call must be returned within the hour, by the end of the day, or within twenty-four hours. Whatever your standards, ensure they are attainable and conveyed to your customer service team.
Online shoe retailer Zappos is famous for its customer service. Their call-center rule is "a response within one minute, 24/7." They also ensure that their phone number is easy to locate on their website and in search results.
Communicate your response rules to your callers. Incorporate expectations into the recorded message your caller hears. For instance, if the business is closed for the day, inform your customer when you'll be back in the office and when they can expect to hear from you.
Similarly, when using automated email responses, indicate when the sender will receive a response. Let them know that you received their message and when you\'re going to be "on it." If it\'s a weekend and staff won\'t be in the office until Monday, let the customer know.
It's important to tell your customer that you received their query and that you value their business. First, establish clear expectations for when you will call or email them back. Then meet or exceed those expectations.
Respond Virtually When You Can't Be Live
Even when you tell the customer that you're closed until Monday, there will be some people who just can't wait.
As Drift CEO David Cancel noted:
"We want to buy the way we want to buy. People want to do everything 24/7, but when you look at our businesses, we run a 9-5, no weekends, no holidays schedule. That worked in a world where a company controlled the process."
Now customers control the process with internet and smartphone access. Think about ways to help the customer when you're unable to personally respond, such as through Frequently Asked Questions or a Knowledge Center on your website. Video tutorials can illustrate how to resolve common issues.
Harness technology to solve after-hours customer contact needs. Automated response systems and chatbots can handle simple requests and forward more complex issues to a live person. For example, an computerized system can provide account balances, while more complicated questions can be routed to a customer service representative.
Email: Use It or Lose It
If your company is among those that don't respond to customer emails, consider providing a different way for people to reach you. If you don't closely monitor incoming emails and respond to them on a timely basis, this communication method is detrimental to your business instead of a way to engage customers.
As a customer, there\'s nothing worse than feeling your question has fallen into a "black hole."
In surveying email responses, Super Office found that over a third of customer service emails are not signed with an employee name. This impersonal response doesn't allow the customer to follow up with the same person if further issues arise. It also deprives the customer service employee of the chance to feel good about their work and develop a sense of pride in the quality of service they provide.
When you set rules for the timeliness of email responses by your customer service team, also address:
Warmth and friendliness of tone
Thoroughness of response
Contact information (name and direct dial number of customer service responder)
Social Media Customer Support
Given the growth of social media and the time people spend on it, it's no surprise that customers are using it to reach businesses. Digital marketer Jay Baer surveyed consumers who have attempted to get support from a brand, product, or company through social media. Among his findings:
32 percent expect a response within thirty minutes
42 percent expect a response within an hour
57 percent expect the same response time at night and on weekends as during regular business hours
While there are many different social media platforms, you don't need to be on all of them. Choose a couple and make sure you are engaging with customers promptly. Since people are online anyway, they won't hesitate to post a negative review if they feel unvalued by your company or unsatisfied with your response.
Be sure to respond quickly to all comments, especially those that were posted by unhappy customers.
Your Customers Want to Chat
People are accustomed to instant information on their phones, so consider texting and chat to provide quicker customer responses than phone calls or email.
The blog article "9 Ways to Improve Customer Responsiveness" by small business customer service provider Paldesk notes that customers prefer real-time customer support rather than waiting for a response to an email. Further, 41 percent of customers expect to find live chat on your website.
Live chat's popularity is expected to expand due to its immediate response capability. A JD Power study found that live chat has become the leading digital contact method for online customers, as 42 percent of customers prefer live chat compared to 23 percent for email and 16 percent for social media.
Manage with Metrics
Once your response rules are in place for each communication channel, use metrics to track how well you are meeting them. Customer relationship management systems and other technology solutions are ideal for tracking. You can also use technology to determine peak call and contact times so that you can staff customer service appropriately.
Make Quick Response Part of Your Culture
While customer response metrics help you manage the data on your employees' actions, the piece you may miss is how your employees feel about their jobs and behave. Behaviors, not attaining metrics, are what drives company culture.
At CultureWise, one of our desired employee behaviors is "Be a Fanatic About Response Time." It's described as:
People expect us to respond to their questions and concerns quickly, whether it's in person, on the phone, or by email. This includes simply acknowledging that we got the question and we're "on it," as well as keeping those involved continuously updated on the status of outstanding issues. Rapid response is one of the easiest and best ways to stand out from the crowd.
A fanatic is someone filled with excessive and single-minded zeal. Being a fanatic about response time is not just about answering the phone on the first ring when a customer calls. It's about letting all your internal and external customers feel like they're your most important priority. It demonstrates that you value their time and empathize with their problem.
Hire and train employees for that passion and zeal for customer responsiveness. Then continue to reinforce the behavior with meaningful recognition of those who epitomize this behavior. You'll find that strengthening your company culture has a direct effect on your customer relationships.
Interested in learning more about how behaviors drive company culture? Explore the CultureWise website. And stay attuned to the latest news and developments affecting corporate culture with a complimentary subscription to our newsletter, Culture Matters.