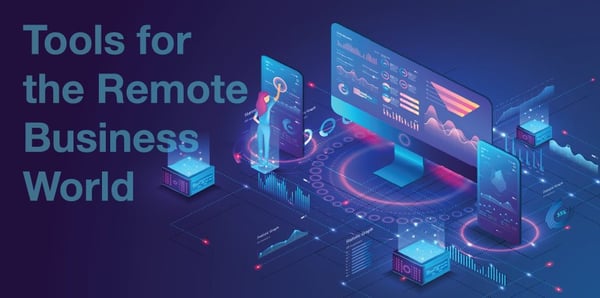 Top Workplace Tech Trends in 2021: Tools for the Remote Business World
By Candace Coleman, CultureWise Content Manager
When the pandemic hit, employers worldwide scrambled to adapt and temporarily find new ways to keep things running. More than a year later, the make-shift strategies have taken on a life of their own. And innovative tech concepts that business leaders were exploring in 2019 rocketed to the mainstream as the health crisis hit the accelerator.
Welcome to a work world that, sans COVID-19, probably wouldn't have been a reality for another decade. As the seismic changes generated in 2020 continue to evolve, it's becoming clear that we won't roll back to the pre-pandemic status quo.
Virtual Reality
The juggernaut driving most of the tech trends we'll see this year is the ongoing transformation to a remote or hybrid workforce. After the pandemic forced millions of people to work from home, most acknowledged the benefits of the new model.
Remote work is expected to become more prevalent because no one wants to forego all the up-sides it affords. By 2025, 36.2 million Americans will work remotely, an increase of 16.8 million people from pre-pandemic rates.
Companies that produce programming and software that support remote work teams had a banner year in 2020. They'll continue to churn out innovative solutions as the virtual workplace expands and employers look for ways to maximize efficiencies in the rapidly evolving business climate.
6 Tech Trends to Watch in 2021
Technological developments spurred by the new virtual work world will shape the rest of this year and beyond. Expect ongoing developments in the following areas:
Asynchronous communication
Workflow software
Cloud storage
HR technology
Enhanced cybersecurity
Virtual Strategies to strengthen culture
1. Asynchronous Communication
Asynchronous communication isn't new. Simply put, it is communication that doesn't require someone else to be there to receive it and respond immediately.
This type of information transmission accelerated with the onset of a mostly off-site workforce. But the value of async communication goes beyond assisting a remote team with different schedules in various time zones to share information.
Companies that provide and encourage the use of async communication tools help employees work more effectively.
Forbes magazine reports the following benefits of not being tethered to real-time communication:
Improved time management
Increased productivity
Less virtual meeting fatigue
More opportunity to share ideas and opinions
Better collaboration
Uninterrupted focus time
Digitized record of communication
Experts agree that asynchronous communication should be used tactically and not completely replace real-time collaboration. Brainstorming sessions, building relationships, complex or sensitive matters, and crisis response are better handled via video conferencing, phone calls, or in-person meetings. But the need for nimble communication that doesn't need an instant response is generating new tools.
Joining classic async platforms like Slack and Microsoft Teams are newer products with a broader approach. Twist and Threads are just two of the more recent contenders that offer a balance between the flexibility of Slack and the personal connection of synchronous communication.
Other new programs, such as Standups and Yac, enable video and audio communication that introduce a more human element in the async realm.
Even email, one of the pioneers of the category, is being reimagined. Superhuman is one of a new class of email providers that offers AI Triage, "Undo Send," insights from social networks, follow-up reminders, scheduled messages, and read status, among other things. Watch for more products like this that take the old email workhorse to an advanced level of speed, efficiency, and depth.
2. Workflow Software
One of the most important parts of a company's infrastructure is its workflow methodology. Poor workflow processes can truncate profit, and even a great workflow system can become obsolete as a business changes and grows. Leaders are always on the lookout for better ways to keep things moving along.
The advent of technology-based workflow systems enabled management to take a giant leap forward to synchronize their teams and grow efficiencies. Here are some of the benefits of these tech tools:
Decreased delays, which cuts costs
Less need for management intervention
More access to information and improving collaboration
Easier task delegation and accountability
Ease in setting and keeping timelines
Efficient management and storage of documents
Better visibility and communication
Freed time and energy to focus on growth and strategy
An easy-to-follow work audit trail
The concept became so popular across all industries that the field was soon exploding with options. The resulting challenge for business leaders was determining the best one for their teams.
Based on user reviews, the top five workflow management software systems recommended by G2 in 2021 are:
Beyond the challenge of choosing a system—is learning to use the system. One roadblock that has slowed progress for some companies is the time it takes for all team members to get up to speed with these products.
Numerous studies predict that the number one workflow management trend in 2021 will continue to be one that got a lot of press in 2020: democratization.
There will be a growing effort from tech producers to make workflow management systems more user-friendly to empower non-IT professionals to work more effectively. Watch for upgrades to existing systems and emerging new products that target specific industry needs and end-users.
3. Cloud Storage
Cloud storage provides a means to save data securely online. Those who have permission can access this information anywhere at any time. It was a welcome remedy for businesses that were outgrowing their internal server capacity and an obvious need for remote teams to collaborate effectively.
An Accenture report states that the global cloud services industry grew 380 percent between 2010 and 2020 when they estimated close to 50 percent of all corporate data was stored in a cloud. The strong uptick is expected to continue in 2021. Some of the cloud trends Accenture predicts are:
Growing demand for specified services, such as Internet of Things, Container-as-a-Service, and AI.
Higher costs as cloud storage becomes more sophisticated and businesses want extra options. Organizations will need more strategic assessments for cloud use, and many will utilize third-party optimization tools.
Multicloud strategy: businesses will deploy or test more than one cloud to tailor cloud capabilities to their needs.
As an increasing amount of online data is being generated and stored, analysts predict the cloud storage market to reach $297.54 billion by 2027.
Hosting Tribunal lists the following seven cloud storage providers as the best for business in 2021:
4. HR Technology
The work-from-home model will necessitate a greater investment in human resources technology, tools, and policies. The pandemic revealed flaws or lack of functionality in many existing programs. Over half of the respondents to Gallagher's 2020 Technology Pulse Survey reported that they intend to increase or replace elements of their HR technology systems by 2022.
One trend that grew in 2020 is likely to take a new turn in 2021—employee monitoring. Many companies invested in technology to ensure that people working from home during the pandemic were on task. An increasing number of studies demonstrated that productivity wasn't a problem, but workers' mental health issues were surging.
In an SHRM article, Gartner Vice President Brian Kropp predicts:
"The technology use will move away from tracking productivity or keystrokes to using tools to measure things like whether employees have been working too long at home and are at risk of burnout."
Kropp also foresees new regulations limiting what employers can track about their staff.
Additional HR tech trends that started in 2020 and will continue with more remote and hybrid teams this year are:
Increased Workforce Management System options
Systems for e-learning and online coaching
Service delivery tools
Dynamic work scheduling tools
Touch-free features for on-site workers
Health screening tools
Self-service apps for shift swaps and time-off requests
Virtual HR help desks
Remote onboarding tools
More online recruiting tools
An increasing number of companies that don't have the internal capacity to manage current HR challenges are outsourcing some of the responsibilities.
Stacey Cadigan, a partner at ISG HR Technology, reports:
"In 2020, the COVID-19 pandemic changed work in unimaginable ways and put increased focus on the potential of HR SaaS (software as a service) technologies to better engage employees, support a virtual workforce, improve productivity and enable a more agile HR model."
She noted that an ISG survey reported that 64 percent of companies are achieving measurable business value from their investment in HR SaaS platforms, up 23 percentage points, or about 50 percent, since 2019.
5. Enhanced Cybersecurity
Remote work introduced a slew of new home networks to company systems, which increased businesses' vulnerability to cyberattacks. As of August 2020, remote workers had caused a security breach in 20% of organizations.
The increasing use of cloud and collaboration tools, which significantly improve the work experience for employers and workers, also introduces higher levels of security risk.
Adam Kujawa, Director of Malawarebytes Labs, notes that these trends "tell us that we need to closely evaluate cybersecurity in relation to these tools, as well as the vulnerabilities of working in dispersed environments, to mitigate threats more effectively." He warns that "threat actors are adapting quickly as the landscape shifts to find new ways to capitalize on the remote workforce."
Malawarebytes research found that the three most common weak links in business security were:
Improperly secured corporate VPNs (virtual private networks)
Business email compromise
Improperly configured security and access controls to cloud-based data
Cybersecurity expert Chuck Brooks reported these statistics in Forbes:
Phishing attacks account for more than 80% of reported security incidents
In January 2021, Google registered a 27% increase in phishing activity in the past year
Malware increased by 358% in 2020
There was a Ransomware victim every 10 seconds in 2020
As the number of work-related, internet-connected devices is poised to increase exponentially in 2021 and beyond, the need for more robust cybersecurity is paramount. Businesses will conduct more security audits and make greater investments in a comprehensive security strategy.
6. Virtual Strategies to Strengthen Culture
According to a Glassdoor survey, 56 percent of employees prioritize a good workplace culture over salary. This statistic isn't lost on a growing number of business leaders who know it's important to prioritize their company culture. But many of them found maintaining team unity particularly challenging when the pandemic forced so many people to work from home.
As a consequence, the sub-genre of remote culture blossomed in 2020. Software companies added different ways for team members to connect for business and fun, and companies jumped on new ways to sustain their culture virtually. Here are a few of the more recent technology trends in culture that will continue to be relevant team-builders for remote workers in 2021:
Virtual Water Coolers. Beyond providing a communication platform and a workflow system, programs like Slack facilitate separate channels for employees to connect on a more personal level.
Virtual Team Building Activities. Whether generated with in-house technology or using specially designed software like the long list created by Museum Hack, companies increasingly do their teambuilding online.
Virtual After-Hours Get-Togethers. More employers are encouraging team members to socialize after work and giving them the tools to do it. Cyber happy hours, excursions, breakfast clubs, and more help fill the gaps left by fewer on-site interactions.
These trends focus on helping remote employees bond over shared fun experiences. Such strategies boost morale and workers' well-being, which employers know is critical for an organization to function effectively.
But maintaining a strong corporate culture, virtually or in person, involves a lot more than creating an enjoyable atmosphere.
CultureWise Solutions
Corporate culture is the driving force behind every successful business. The way employees work with one another, perceive and perform their own work, and interface with customers is the essence of a company's culture.
As an increasing number of remote staff try to do these things effectively, it's more important than ever to sustain a strong culture.
CultureWise is a unique online operating system for culture that enables companies to strengthen their employees' capabilities—wherever they work. It provides an accessible suite of tools and content to teach and reinforce the key behaviors that make businesses successful.
In early 2021, CultureWise Founder and CEO David Friedman released the second version of his book, Culture by Design, which inspired the CultureWise system. The update covers specific methods for building a high-performing culture in a remote work environment. A free, two-chapter download of this timely book is currently available.
Stay informed about the latest business and corporate culture trends with a complimentary subscription to the weekly CultureWise newsletter.