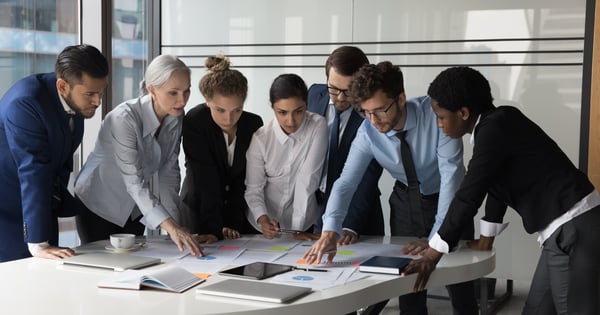 Actions Speak Louder than Words: Make DEI Part of your Company Culture
After decades on the back burner, a focus on diversity, equity, and Inclusion (DEI) is finally on the rise in the workplace. Troubling headlines and heightened awareness about employee concerns spurred by the pandemic prompted companies in every sector to create and publicize formal (DEI) policies.
And beyond being the right thing to do, leaders are heeding plenty of data revealing how such initiatives benefit companies as well as their staff. But despite the formalization of these policies and the good intentions behind them, many fall flat. No matter how well DEI declarations are articulated, companies often don't implement processes to bring these words to life.
The Definition of DEI
Most people have a general idea of what DEI looks like in the workplace. But organizations must make the specific components clear to their team members to enact fairness policies successfully. To assist people's understanding, Diverse Educators provides a glossary of key terms that include the following definitions:
DIVERSITY
Diversity is differences in racial and ethnic, socioeconomic, geographic, and academic/professional backgrounds. It addresses people with different opinions, backgrounds (degrees and social experience), religious beliefs, political beliefs, sexual orientations, heritage, and life experiences.
EQUITY
Social equity is concerned with justice and fairness of social policy. Since the 1960s, the concept of social equity has been used in various institutional contexts, including education, public administration, and business.
INCLUSION
Inclusion is achieving a work environment where all individuals are treated fairly and respectfully, have equal access to opportunities and resources, and can contribute fully to the organization's success.
One more vital element rounds out the DEI spectrum: belonging. Beyond having a diverse workplace where everyone is invited to participate fully, people need to feel like they are accepted members of the group. It's the difference between merely opening the door for all versus welcoming them to the table.
Why DEI Efforts Fail
With all the energy directed toward enacting DEI change in the workplace, it's difficult to pinpoint why so many initiatives fail. To help connect the dots, Forbes compiled input from their Young Entrepreneur Council. Their reasons behind unsuccessful attempts in this area include the following:
Unconscious bias was never addressed
Unconscious biases are social stereotypes formed without our awareness. Everyone is prone to passively developing these beliefs, but we often don't recognize our biases. And leaders miss how this tendency can systematically unravel DEI efforts in their companies. Organizations must actively acknowledge this aspect of human nature and develop processes and training to overcome it.
A lack of commitment to the program
Many DEI initiatives break down after a great start because leadership didn't commit to the long game. There were no clear goals or success indicators. These projects require an all-in approach, a trackable plan, and can't be left to run on autopilot.
Barriers to success were never resolved
Employees who benefit from existing systems and structures can pose a formidable hurdle for a DEI initiative that pushes for change. Harvard Business Review reports that 42 percent of employees believe their organization's DEI efforts are divisive. To succeed, leaders must persuade all team members that the program is a win-win proposition for everyone and build a coalition of key stakeholders.
Treating the effort as a "check-box exercise"
DEI initiatives aren't quick or simple fixes. They require a long-term cultural shift, investing in necessary resources and infrastructure, and carefully implementing a psychologically safe environment.
Management didn't take the time to listen
Leaders must go beyond recruiting and hiring a diverse workforce; they need to listen to people after they're on board. Gaining multiple perspectives helps leaders understand how and why their policies are working—or not.
Making DEI Efforts Succeed
Companies with strong DEI initiatives are invariably those who have infused them into their workplace culture. These organizations have identified tangible issues that need addressing and developed processes to promote course-correcting behaviors. Most work from a pyramid model, beginning with leadership and cascading to team-wide engagement.

START AT THE TOP
Experts studying DEI efforts in the workplace offer an array of advice. But they agree on one priority: a company's success or failure in this area is directly tied to the leader's commitment. The person with the senior voice of authority must communicate internally and externally that DEI is a core organizational goal. And they must enlist full buy-in from their executive team for a united front signaling its importance, along with exhibiting zero tolerance for non-compliance.
McKinsey advises CEOs and their C-suite members to "hold themselves accountable for outcomes and not just inputs, role modeling and leading desired change, and allocating sufficient resources to the initiative—budget, expertise, and time."
MAXIMIZE THE MIDDLE
Once the leader establishes the cornerstone of the DEI initiative and ensures executive team alignment, middle managers shoulder the second critical tier of responsibility. These are the key agents of organizational change, and they must demonstrate and coach authentic and strategic measures to ensure that their team lives up to this mission. It's not an easy task.
Harvard Business Review recommends that leaders equip this vital group with the tools they need to succeed. They should:
Build a DEI narrative that connects the big picture (the "why") to the implementation (the "how)
Communicate and commit to tactical implementation plans, including resources and metrics
Train and support managers on how to navigate DEI challenges
Building and firming up this infrastructure will help middle management make substantive progress on DEI with their teams. The process is time-consuming and intricate, and it may involve weeding out people resistant to change, but it's essential. DEI programs can't succeed without middle management's full endorsement and steadfast participation.
EMPOWER THE BASE
Once managers implement the processes and practices that promote workplace DEI, they must enlist everyone's active participation in building a fair, respectful, and welcoming team. Employees can't expect these initiatives to simply settle into place; they must commit to being part of the change.
VisionSpring co-founder Robin Pedrelli offers ten ways employees can support diversity and inclusion at work.
Learn how the organization's diversity goals impact business objectives and the relationship between DEI and their role in the company.
Participate in employee engagement surveys and identify a leader or mentor with whom they can comfortably express concerns or get advice.
Take part in or start an employee resource group, volunteer to lead or serve on committees that organize DEI-related events, or become a mentor.
Learn about different cultures or groups represented in their workforce.
Always be respectful and treat people as they wish to be treated.
Drive positive change by being a spokesperson or ally for diversity issues not related to them.
Embrace diverse perspectives and support coworkers' ideas.
Honor the value each person brings to the organization.
Commit to continuous improvement and be willing to learn, accept feedback, and listen.
Be ready to help educate coworkers about DEI issues.
Benefits of a Vibrant DEI Initiative
Everyone wins when DEI programs flourish. When all individuals are validated and appreciated, they feel more empowered and purposeful in their jobs. They have fewer mental and physical health issues, attain a healthier work-life balance, and bring their best selves to work every day.
And an energized, diverse workforce can take their organization to the next level of success. For example, a company's commitment to diversity, equity, and inclusion correlates to increased employee engagement. They care more about the success of a company that has their welfare at heart.
And since a company with a robust DEI program draws from all points of view, it generates more ideas and creative thinking. A Harvard Business Review study shows that such companies have 19 percent higher innovation revenues.
Companies committed to DEI attract top talent. Glassdoor reports that 76 percent of job seekers list a diverse workforce as an essential factor when evaluating potential employers. In an increasingly competitive staffing environment, organizations that welcome diversity gain the best candidates and have a higher retention rate.
And customers are watching. Consumers gravitate towards and trust companies with reputations for treating their employees fairly and respectfully.
Building a culture centered on DEI is a continuous process and challenging. But it results in tangible benefits for employers, their staff, and the wider community. As APIC CEO Devin Jopp summarizes in Forbes, "This work is long overdue and absolutely critical to the success of our organizations and our society. We must prioritize this work and get it right."