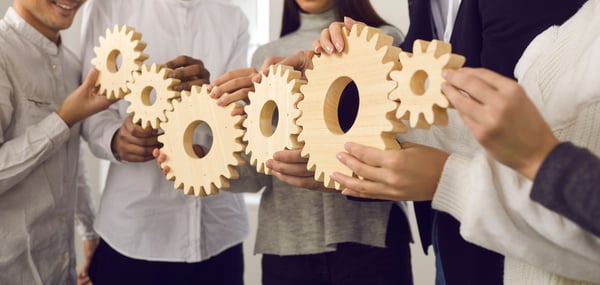 What's New about Employee Engagement? Three Companies Leading the Way
When William Kahn coined the term "employee engagement" in 1990, he defined it as "when people bring themselves fully into their work." The professor of organizational behavior at Boston University helped business leaders understand that people are more satisfied with their jobs if they're mentally and emotionally connected to them.
Kahn conducted his groundbreaking research on the topic over thirty years ago. While his definition still holds, the things that satisfy workers have shifted, especially during the COVID era.
For example, competitive pay and benefits used to keep most people in long-term commitments to their employers. While these things still factor into job satisfaction, today's determining factors reside on a more human level.
Employees want and need more than financial stability to feel engaged in their jobs.
The Road to Disengagement
The pandemic's lingering impact prompted people to reevaluate the meaning of work in their lives. As they assessed their priorities, many discovered they weren't fulfilled in their jobs and began looking for greener pastures. The ensuing turnover trend, labeled the Great Resignation, remained in full force well into 2022 until the economy hit a downturn.
The widespread financial uncertainty made people more inclined to hold onto their current jobs, and attrition slowed. But many workers who stuck with existing employers grew increasingly disengaged. Consequently, "quiet quitting" became the newest trend vexing organizations, as employees began to do little more than putting in their hours.
Experts, including MentorcliQ CMO Gracey Cantalupo, believe we've entered an "engagement recession" that should worry employers just as much as the rocky economy. As she points out in Forbes, disengagement is expensive:
"According to Gallup (via LinkedIn), actively disengaged employees cost their employers 34 percent of their annual salary in lost productivity."
Every organization's success is directly tied to its employee engagement level. Employers can't afford to hope engagement improves as people adjust to a post-pandemic work world. Instead. Instead, they must develop strategies to make their organizations places people want to be.
3 Companies Leading the Engagement Charge
Today's definition of employee engagement is comprised of three elements.
Engaged workers:
Feel valued by their organization
Are motivated by their work
Are committed to their company's success
The quality of a company's workplace culture determines how well it can meet these goals.
Astute business leaders are setting new standards for building stronger connections with their staff. Wellable's list of companies with high employee engagement in 2022 can inspire all business leaders in 2023. These industry titans have vast resources, but smaller organizations can effectively use many of their ideas to boost and sustain engagement. We take a look at the top three companies on their list.
GOOGLE
Google leaders stay in tune with their highly talented staff to assess their needs. Often at the top of the "Best Places to Work" list, the tech giant employs multiple strategies to increase engagement. They include:
Flexibility and innovative culture.
Google prioritizes employees' needs for personal growth and offers creative paths for enrichment. They pioneered the 80/20 rule, which allows staff members to spend up to 20 percent of their time learning new skills or pursuing things that inspire them. Smaller companies may not have the capacity for this work format, but they can still develop a learning culture to help their people grow.
Comprehensive benefits.
Conventional benefits often don't fill many employees' needs. Google offers a more people-centric package with broader insurance coverage and on-site wellness programs. They also introduced their industry's first stock option plan. While that's not an option for many companies, some form of profit-sharing makes employees feel more vested in the organization.
Open communication.
Google is known for its exceptional flow of communication throughout the organization. Understandably, this company embraces technology-based solutions. But their innovative programs were born out of a commitment to listen to and communicate with their staff. Any company that prioritizes careful listening and sharing information within its culture will enhance employee engagement.
MASTERCARD
This massive financial services company has more than 100,000 employees worldwide. They owe much of their success to tactical employee engagement programs that unify the organization. Their strategy involves:
Creating a learning environment.
Mastercard believes employee development correlates directly with organizational performance. Its leaders also know skill development improves employees' outlook on their jobs. The company makes sure employees have the resources and support to build expertise and gives them "development cards" to chart their career paths.
Forward-looking employee development.
Beyond maximizing existing skills, Mastercard works to ensure its people are ready for the future. With the lightning speed of technology evolution, the company seeks to equip its staff with transferable skills. Any company undergoing or foreseeing change can elevate engagement by helping employees transition with the times.
Holistic perks.
Like Google, Mastercard looked beyond the standard benefits package to consider what their people really need to thrive. As a result, they offer multiple programs to support the various situations employees and their families face. This initiative is reflected in their company policy: "When you feel well, you live well—personally and professionally." Mastercard sets the example of looking at employees as individuals and not simply as part of a group plan.
CISCO SYSTEMS
This top cybersecurity and networking company depends on a high-performing staff. Consequently, they rely on a multi-faceted engagement strategy to satisfy their people, which includes:
Employee recognition and empowerment.
Companies that extend meaningful acknowledgment to their staff members cultivate engagement. Cisco not only employs an employee recognition program that highlights accomplishments on the job. Their system also allows people to applaud their coworkers for achievements in other areas of their lives—building a "whole person" connection to the organization.
Direct access to Cisco executives.
Cisco has developed various programs to facilitate communication and staff member feedback. These include one-on-ones with top management and platforms that allow employees to voice opinions and concerns. Any company can increase engagement by initiating similar initiatives.
Innovation and career development.
In a variation to the Google and Mastercard approach to helping their employees grow, Cisco encourages staff to share product ideas. Their talent development plan encourages employees to envision and try new concepts. This strategy empowers their people and makes them feel more proprietary. It also conveys to employees that their perspectives and contributions are valuable.
The Culture Connection
It's worth noting that many of these strategies mirror one another, but each company navigates the path that works best for its organization. Three themes prevail:
Businesses of all sizes in any industry can accelerate engagement by enhancing employee experiences in each of these areas. Weaving these improvements into workplace culture is the most effective way to make these efforts ongoing.
Visit the CultureWise website to discover how a strong culture fosters more robust employee engagement. Then book a call to learn how improving your culture will positively impact every aspect of your organization. And sign up for a complimentary subscription to our weekly newsletter for valuable articles, videos, podcasts, and webinar opportunities that cover the spectrum of workplace culture.