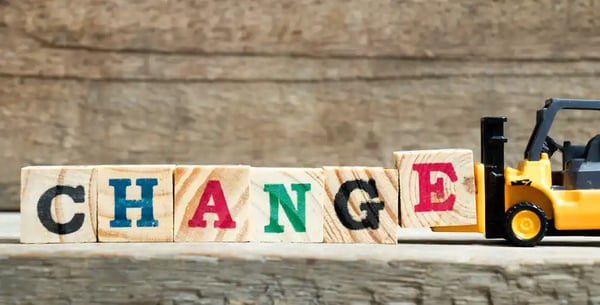 The Role of Organizational Culture in The Evolving Work Environment
Thanks to the pandemic and a roller coaster economy, adapting to the latest new normal is all in a day's work for today's business leaders. Along with conventional leadership capabilities, staying nimble has become an imperative skill for CEOs. While quick solutions to new conditions often dominate their schedules, leaders must also focus on the changes that will impact their organizations in the long term.
10 Key Developments Affecting Businesses
With countless macro and micro shifts affecting the business world, it can be challenging for leaders to know what to target. To bring some focus, McKinsey researchers identified major developments in ten areas in their State of Organizations 2023 Report.
Speed and resilience
Balancing in-person and remote work
Applied AI
Talent attraction and retention
Institutional capabilities
Talent distribution
Leadership
Diversity, equity, & inclusion (DEI)
Mental health
Efficiency
Whether the shifts are pandemic-driven or newly accelerated traditional problems, leaders need to understand the current trends and recalibrate to confront them. And their best compass for navigating the evolving work environment is a strategically designed organizational culture.
1. SPEED AND RESILIENCE
Agile organizations that can quickly and effectively react and move forward in turbulent times have an advantage over those stuck in crisis mode. For example, University of California, Berkeley research shows a strong correlation between a culture of adaptability and a healthy bottom line.
McKinsey reports that while most leaders understand that rapid response to situations and built-in resilience are vital for organizations, many feel their organizations are unprepared for potential disruptions. They cite three barriers holding companies back in this area:
Limited funds to develop surplus and contingency solutions
Unclear priorities for targeting resilience
Resiliency efforts getting buried in organizational silos
McKinsey experts recommend that leaders address these issues systematically and regularly review and revise their responses in each area.
The first line of defense is to fine-tune their organization for speed so they can act efficiently and effectively when changes occur. Leaders can enact various initiatives to prepare for rapid response, including:
Forming smaller, cross-functional teams
Developing and sharing a solid change narrative so all employees are on the same page
Eliminating unnecessary meetings so people can focus on what they need to do
Secondly, McKinsey research shows that successful companies are increasingly empowering their employees to make decisions. Team members can be highly effective if they can apply their judgment and respond to issues promptly rather than waiting for red-tape delayed decisions. Sharing authority with staff requires a culture that inspires people to have a bias for action and take ownership of issues. It may involve dynamic staffing shifts to ensure the right people are in specific roles.
The third part of the formula is to develop a culture of continuous learning. Starting at the management level, leaders should proactively identify the behaviors that will allow their staff not to merely function in uncertain times but move ahead. They should help their people develop capabilities that promote seamless collaboration so the organization can be more responsive and agile in the face of change.
2. BALANCING IN-PERSON AND REMOTE WORK
In the post-pandemic work universe, 90 percent of companies have shifted to a range of hybrid work models that include degrees of asynchronous scheduling and remote staff. Leaders have been experimenting with the most productive formula to best reach organizational goals while meeting employees' needs.
It's a complicated task involving many problematic areas. The obstacles include:
Managers' discomfort in leading hybrid teams
Proximity bias; remote employees feeling "unseen"
Blurry work-life boundaries
Lack of cohesiveness among team members
McKinsey's experts note that leaders need to do more than tweak old policies and practices to address these issues. Instead, they must "develop a new set of norms suited for a new kind of workplace." Their suggestions include:
Resetting performance expectations by emphasizing results rather than time spent working
Setting clear expectations for staff by removing ambiguity about working practices
Refocusing in-person work on activities that benefit from face-to-face collaboration
The fluidity of the new working environment means leaders can't carve solutions in stone. They should continuously monitor what's working and what needs to improve, listen to employee feedback, and be willing to realign to reap the most benefits from the hybrid workplace.
3. APPLIED AI
While many leaders viewed AI skeptically at first, now there are legions of converts. McKinsey reports that more than half of their global survey respondents had adopted AI in at least one business unit. And a majority expected to increase their investment in this area over the next few years.
Their researchers note that AI-driven organizations are "reimagining how they manage talent, processes, and organizational structures." And companies harnessing AI are seeing a substantial impact on profitability because of increased efficiency, precision, and responsiveness.
But this shiny modern tool also poses challenges that can disrupt a workplace. A primary issue is employees' resistance to a change they perceive as a job threat. Another problem is the lack of qualified staff to leverage this technology. And looming over everything else is the perception of the ethical risks of AI dependency.
To overcome these issues, McKinsey researchers emphasize the need for companies to become AI-first instead of cherry-picking this technology. They report:
"AI-first organizations focus not just on the technologies behind AI but also on the operating models, culture, talent, leadership, and capabilities required to get the most from their AI investments."
They emphasize the need for leaders to embed AI into their company culture. They should create an environment of continuous learning about using this technology and relay how it benefits every team member.
Another tactic is to hire or develop AI-savvy managers to act as change agents and advocates for this tool. And organizations should seriously consider AI's possible unintended adverse effects and adopt strict requirements for its responsible use.
4. TALENT ATTRACTION AND RETENTION
The "Great Resignation" may be leveling off, but despite recent layoffs, The US Bureau of Labor Statistics' most recent report says there are still 1.8 openings for every hire. And McKinsey reports that employers are largely oblivious that up to 40 percent of employees are considering leaving their jobs. Meanwhile, leaders are still battling the "quiet quitting" trend, where disengaged workers add little value to their organizations.
All the data points to an unprecedented change in the labor market, and it's not over. Staffing conditions will remain tough for various reasons, including:
Bearing in mind that they can't dial workforce dynamics back ten years, leaders must adopt new strategies for attracting, retaining, and keeping top talent to remain competitive. The McKinsey report concludes: "Organizations can only unlock talent as a competitive advantage if they can better understand what different cohorts of employees want and need."
They recommend identifying segments within their workforce, including traditional and remote or hybrid workers, working parents, people in the early stages of their careers, and veteran employees, and tailoring employee value propositions to each group.
"It's not about giving people money or work-life balance or purpose; it's about providing any or all of those things in the proportion that's best suited to a particular segment."
5. INSTITUTIONAL CAPABILITIES
McKinsey defines institutional capabilities as the "key elements that make up a company's superpower." They are the people, systems, and technology that give organizations a competitive edge. But the skills needed to drive growth and value in the modern workplace are rapidly evolving. And many business leaders are seeing a widening gap between capability and goals.
Of the methods companies use to close capability gaps, including external hiring, redeploying staff, and hiring contract workers, most leaders agree that upskilling provides the most benefits. For example, companies that include a large percentage of their workforce in capability-building programs are not only more productive; their staff is happier and more fulfilled.
But many of these leaders report several reasons why they can't keep up with internal development, including:
Insufficient time to devote to a capability initiative
Lack of resources for training and development
Not enough internal support
Some leaders prefer sourcing outside talent to meet new capability needs. But hiring and outsourcing come with their own set of hurdles, including:
Lack of available talent
Inability to meet compensation requests
Company's lack of attractiveness for desired talent
McKinsey developed VECTOR, a six-element model to help leaders solve these problems:
Vision and leadership
Leaders should determine how their company will contribute to their industry as it evolves and outline the capabilities needed to achieve this goal.


Employees
Leaders should then assess existing strengths and weaknesses in the workforce and balance new hiring with reskilling those already on board. To succeed, they must also build and support career paths and incentive programs.


Culture
Leaders must leverage their organizational culture for capability building to be successful.


Technology
Leaders must commit to the scalable use of technology, data, and AI to maximize their institutional capability.
Organization
Leaders should develop an organizational structure with clear roles and responsibilities and a system of positive accountability

.
Routines
Leaders need to coach effective routines to embed new processes into the organization. These rituals

would hone hard-skills capabilities and the behaviors necessary for employees to deploy them successfully.
6. TALENT DISTRIBUTION
Attracting and retaining good employees is only half the staffing equation leaders face. They must also configure their team to set the business up for long-term success. Part of their task is to match top talent with key roles.
According to McKinsey, 5 percent of employees contribute 95 percent of a company's value. When these high-performing individuals are placed in the correct positions, they positively influence overall performance. But many organizations don't have the right alignment because they are unclear about which roles are most vital and which staff members would excel there.
Leaders should prioritize "talent mapping" and systematically place the best people in crucial positions. They can begin by determining which departments create the most value and what roles are needed to reap the best outcomes in those areas.
The next task is to match the right individuals to these key positions. To be successful, leaders might want to look at their staffing with a fresh perspective. Their strategies might include:
Reimagining role structure and assessing what work model (remote, hybrid, traditional) best suits the job and the best candidate.


Defining what excellence looks like in these critical roles, including knowledge, skills, mindsets, and experience.


Regularly reviewing talent distribution as the industry changes and requires new skills, and assessing the need for reassignment or additional training.
7. LEADERSHIP
Only 25 percent of the State of Organizations Survey respondents believe their leaders effectively inspire employees. The reason many give is that their bosses are mired in "we've always done it that way" mindsets without considering the swiftly changing work environment. Additionally, many CEOs use dated leadership criteria and haven't factored in self-awareness as a necessary skill.
But to successfully run a company amid current changes, leaders must freshly evaluate what motivates today's workers and also understand how to develop personally to better guide and inspire their staff. CEOs also need to cultivate these capabilities in their management tiers.
An article in The University of Pennsylvania's Wharton Magazine calls self-awareness an indispensable aspect of leadership. Author and retired ExxonMobil Global Business Executive Xinjin Zao notes:
"People with high self-awareness understand where they are headed and what makes them motivated. By knowing their strengths and weakness, values and aspirations, and how they affect actions and the actions of others, they are likely able to make better decisions and ultimately lead others."
Leaders anchored in self-awareness are poised to empower their employees. They're better equipped to create collaborative networks where teams work on multiple initiatives and develop an organizational culture in which employees can maximize their potential.
McKinsey's team observed:
"To redesign how value is created, the leader's perspective needs to move beyond being a manager who ensures that profits are predictably delivered to shareholders to one who is a visionary and can engage people to deliver impact and value to all stakeholders through a compelling purpose."
8. MEANINGFUL DEI
The good news is that companies have taken big strides toward prioritizing DEI over the past decade. But McKinsey's survey shows a gap between intent and outcome—many companies' efforts aren't yielding meaningful results. Organizations that have increased their diversity often still fall short in this area. And there's an even larger disparity between those who feel genuinely included and valued and those who don't.
Organizations that successfully foster DEI initiatives are not only doing the right thing; statistics show that they are also more successful. But getting there isn't as simple as enacting policies. Leaders face many hurdles in putting their DEI initiatives into action and sustaining them. McKinsey's research shows several reasons why:
Not being strategic and applying DEI programs unsystematically
Unclear criteria—not outlining what a successful DEI program looks like
Uneven support and insufficient resources
Leaders must develop a holistic approach to make meaningful progress on DEI. Instead of just increasing diversity by percentage, they should commit to creating a culture where everyone feels they belong and their contributions are appreciated.
To begin, they should honestly assess the company's current DEI status and where it needs to improve. Leadership throughout the organization should be involved in this process. Then a core group should create an action plan that prioritizes effective steps.
And finally, leaders need to communicate that everyone owns DEI goals. They need to frame expectations and hold employees at every level accountable for activating DEI policies and making them an unchallenged aspect of the company's culture.
9. MENTAL HEALTH
The pandemic put employees' mental health and wellbeing in the spotlight, and companies reacted. The McKinsey survey reveals that most HR leaders now classify mental health and well-being as top priorities. As a result, many organizations offer structured wellness programming for their staff.
But McKinsey's research also disclosed that despite these measures, a large number of workers still feel overwhelmed. They conclude that while companies are focusing on the symptoms of poor mental health and well-being, they are failing to address the root causes of these issues.
The problem is not only impacting employees. The World Health Organization estimates that 12 billion working days are lost annually to depression and anxiety, costing $1 trillion annually in lost productivity.
McKinsey documented eight factors that impact how employees feel at work:
Toxic workplace behavior
Sustainable work
Inclusivity and belonging
Supportive growth environment
Freedom from stigma
Organizational commitment
Leadership accountability
Access to resources
Organizations that leverage their culture to improve these areas can significantly reduce work-related mental health issues and improve employees' overall well-being.
10. EFFICIENCY
The margin for error is narrowing in the rapidly changing business landscape. It's increasingly clear to many leaders that the operational systems that got their companies where they are now aren't sufficient to compete today, much less take them to the next level. As a result, more than a third of McKinsey's survey respondents listed efficiency as a top focus in the years ahead.
It's a complex endeavor. Increasing efficiency is more than working faster or ensuring timely responses to issues. To have a maximum impact, leaders need to retool how their organization operates, develop a team that can proactively anticipate challenges, and put systems in place to safeguard against turbulence.
McKinsey's survey gleaned seven basic causes of inefficiency in companies:
Complex organizational structure
Unclear roles and responsibilities
Unwieldy governance model
Redundant activities
Unclear processes
Slow approval mechanisms
Too many meetings and low-value activities
Leaders can't tackle these impediments without aligning their company's culture with efficiency goals. Organizational culture consists of the behavioral norms of a company's workforce—how people perform their jobs and collaborate. To form a culture that can overcome efficiency problems, leaders should provide a blueprint of specific behaviors and then model and coach them until they stick.
By intentionally developing a high-performance culture, leaders create the necessary infrastructure to implement solutions that drive efficiency.