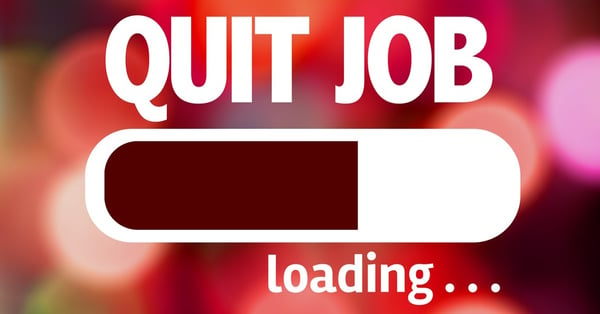 Why People Still Quit in a Shaky Economy and How CEOs Can Respond
The headlines highlighting inflation and recession fears have been unsettling. Workers are understandably concerned about an uncertain economy, prompting a slight slow-down to the Great Resignation. And yet, they're still leaving their jobs at a rate both troubling and baffling to employers.
Richard B. Freeman, a Harvard University professor and research associate at the National Bureau of Economic Research, notes that the labor market's resilience despite the Federal Reserve's recent interest hikes surprised people. He explains why in an article for Fortune:
"I think it will take much bigger interest rate and probably aggregate policies to seriously impact the labor market. The basic thing to stop inflation is to slow down the economy, have workers lose their jobs and then of course their wages, and that ultimately affects the inflation rate. But this inflation is coming much more from non-labor related phenomena, such as supply challenges, China's economy slowing down, and the Russian invasion of Ukraine."
Freeman suggests that the labor market will stay strong because labor isn't causing inflation's rise. So despite the economic environment, companies will continue to compete for top talent. As Greenhouse Chief Marketing Officer Carin Van Vuuren noted in a recent Yahoo blog:
"The Great Resignation, Quiet Quitting, and record levels of job openings proved that the war for talent is over, and talent has won ," she said. "The power will remain in candidates' hands, and they will continue to be selective about who they work for and where — this could be the first recession that we see jobseekers win."
Consequently, business leaders shaken by the worrisome financial forecasts face a challenge beyond battling inflation and recession concerns. They must also hold onto and attract employees who can help their companies persevere. It's time for leaders to identify why people may be leaving and make changes that will gird their companies for whatever comes next.
The 5 Main Reasons People Quit
It takes a lot for someone to leave their job—especially in times of financial uncertainty. But there are some factors many workers can't ignore that move them to look elsewhere for employment. In a recent Harvard Business Review article, author and HR executive Marlo Lyons lists five reasons people might think it's not worth staying in their current job:
The work environment is toxic
Their personal values are being violated
Their skills aren't being used or developed
They're not given opportunities to be visible
They're feeling low energy
Lyons points out that each of these conditions leads to an employee's lack of engagement, ultimately putting their career at risk. She asserts that people should consider a new job if they hit this threshold.
TOXIC WORK ENVIRONMENT
The findings from a comprehensive MIT Sloan Management Review study in early 2022 still hold true. Toxic work culture continues to be the number one reason people are leaving their jobs. More recent data from the organization shows that one in ten people consider their workplace toxic.
The study's analysts found that the leading characteristics of toxic work environments are: disrespect, non-inclusivity, unethical practices, cutthroat mindsets, and abusive behavior. This unhealthy atmosphere can range from a hostile undercurrent to full-blown bullying or harassment. And all toxic workplaces share the common thread of being places where employees don't feel safe, supported, or heard.
What Employers Can Do
The Sloan research showed that "leadership consistently emerged as the best predictor of toxic culture." Company executives can only improve organizational culture if they're willing to hold themselves and their management teams accountable for damaging behavior. And unhealthy attitudes include looking the other way when top performers or veteran supervisors negatively impact team members.
Leaders can uphold the standards they want to see by codifying the behaviors that will create a workplace where employees can thrive. By coaching and enforcing a defined code of conduct, leaders create a method that ensures everyone will be held accountable for their actions and attitudes. This blueprint is especially critical for managers to help them set the example their teams should follow.
WORK-LIFE BALANCE & VIOLATED VALUES
People's personal values and priorities prevail over unreasonable work commitments, even in a worrisome economy. So when workers feel their jobs are causing them to sacrifice too many things that are most important to them, they'll look for work elsewhere—even if it means a pay cut.
In an article for The Wall Street Journal, Katherine Bindley cites a Prudential Financial study that found that 32 percent of people who changed jobs since early 2020 made less money as a result. And 25 percent of those earning less took the pay cut to carve out a better work-life balance or find an employer more aligned with their values. Inflation prompted many of these career jumpers to make adjustments, but many still abide by their decision to quit their former jobs.
What Employers Can Do
Organizations can no longer afford to operate in a pre-pandemic mode. Back then, many executives favored the old command-and-control leadership method, leaving little room for management to see staff members as people. But today's workers want their employer to consider their wellbeing and crave work experiences that blend with the priorities in their lives.
Leaders can offset many employees' concerns by offering more flexible work arrangements and allowing people to establish boundaries for personal time. Hybrid or remote options meet most workers' needs to create a desirable work-life balance. And variations of these more modular work models are even possible for front-line workers, including offering more work schedule autonomy and stability.
Companies also need to o address people's desire for meaningful work beyond collecting a paycheck. Leaders can help employees experience a sense of purpose in their work by clarifying how each person plays a vital role in the company's success. They can also emphasize the organization' positive impact on society and how every employee contributes to that effort.
UNDERUSED & UNDERDEVELOPED SKILLS
People want to feel like they're using their skills and making an impact with their work. They become dissatisfied with their jobs when they are placed in positions where they can't make use of or hone their talents.
Beyond maximizing what they already know, modern workers are also hungry to learn new skills. They want opportunities to develop fresh expertise to help them advance their careers. Many employees who quit were discontent with stagnant positions and went to work for companies where they could grow.
What Employers Can Do
Managers can help employees who demonstrate proficiency feel fulfilled in their work by increasing the level of complexity and responsibility in their assignments. These stretch opportunities allow them to up their performance and build on their strengths.
Creating a learning-focused environment is another way for companies to build employee engagement. By regularly providing opportunities for upskilling, cross-training, certification, and informal and formal training, employers can satisfy and elevate their staff.
Establishing a mentorship program is another highly effective method to help employees develop and grow. Leaders can put veteran workers in positions to coach newer employees and enable reverse mentoring where younger workers help others with more contemporary skills in areas like technology.
Both the people who are teaching and learning gain in these situations. And mentoring fosters relationships, builds community, and prevents silo thinking and behavior, which all assist with employee retention.
LACK OF VISIBILITY
Employees who receive challenging assignments or extra training can expand their experience and capabilities. But these accomplishments will only help them up the internal career ladder if key players in the company are aware of them. As a result, many capable workers feel invisible in their organizations, no matter how well they perform. Eventually, they look for another employer where they can shine.
Remote and hybrid jobs intensify this anonymity since others only occasionally or perhaps never see them. Consequently, decision-makers gravitate toward proximity bias and favor those with whom they regularly interact.
What Employers Can Do
Employers can work on multiple levels to help their people be visible in the organization. UC Berkeley recommends that CEOs coach managers to recognize that their role includes staff development, which benefits the entire organization as well as the individual. They suggest requiring managers to conduct annual individual development plans and career discussions with employees.
These open lines of communication allow people in supervisory positions to understand their team member's aspirations. Then they can give them opportunities to excel, such as including them in more planning meetings, giving them opportunities to be team leaders, and assigning them to cross-functional teams. This kind of transparency also builds trust and relationships, leading to stronger employee engagement.
Another effective way for leaders to increase employees' visibility is by publicly acknowledging their achievements. Providing meaningful recognition to staff members who perform outstanding work or hit a milestone should be woven into their organizational culture. Dr. Ken Matos of Culture Amp made this observation in Time:
"Recognition can help employees establish a reputation for competence that can help them be more influential, especially if the praise is visible to other departments in the organization."
And Glassdoor reports that more than half of employees would stay longer at their company if they received more recognition.
LOW ENERGY
The pandemic brought on a circus of new stressors. But it also inflamed issues already negatively affecting workers, and those pain points continue to prevent people from bringing their best selves to their jobs.
Consequently, burnout is at an all-time high in the workplace. For example, Gallup reports that although employee wellbeing is foundational to performance, engagement, and longevity at work, three in ten U.S. employees experienced being burned out "very often" or "always." Gallup lists this energy sapper as one of the top issues confronting employers today. Their researchers conclude:
"Going forward, having a clear strategy for protecting people from burnout and addressing mental health issues is not just a defensive move—it will be key to attracting, engaging and retaining talent."
What Employers Can Do
Destigmatizing mental health issues like depression, anxiety, and stress is an important way employers can combat burnout. Talking openly about mental health and stressors in the organization is one of several recommendations offered by Chair of the Healthy and Benefits Leadership Conference Kathryn Mayer in an article for HRExecutive.
Mayer also says leaders should make sure they are offering the right benefits and resources for people to address mental health issues. And they should proactively put these options in play before people resort to walking out the door.
She also suggests that organizations diagnose operational areas that may contribute to the problem, such as ineffective DEI policies, a lack of transparency, and even Zoom fatigue. In general, employers should aim for a more empathetic relationship with their staff to improve the wellbeing value proposition.
The Role of Organizational Culture
All the reasons behind turnover in this article relate to the quality of organizational culture. A healthy company culture is structured to:
Prevent workplace toxicity
Ensure work-life balance
Highlight intersecting values
Instill a sense of purpose
Encourage learning and development
Promote people's achievements
Be a support system
Leaders can deliberately shape their workplace culture by defining and coaching the behaviors that ensure these qualities prevail. In doing so, they create an environment that generates employee engagement, which stems attrition.
According to a Columbia University study, the probability of employee turnover in jobs with a strong company culture is 13.9 percent compared to 48.4 percent for those with a weak culture. And those who for various reasons stick it out in an unhealthy organizational culture often succumb to "quiet quitting" or just doing the bare minimum to earn their pay.
Leaders dedicated to forming and maintaining a robust culture create the ultimate win-win opportunity for their business and staff. By providing their employees with a supportive framework, they'll build a loyal workforce equipped to perform at their best.