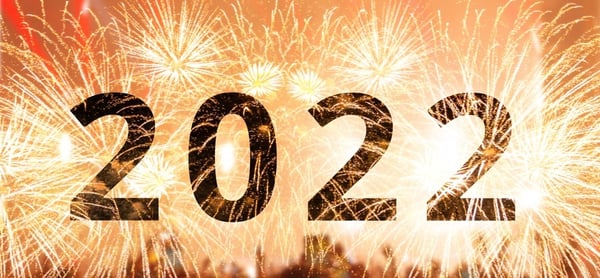 2022 Roundup: 10 Articles that Explore the Impact of Workplace Culture
As we close the book on 2022, we reflect on a year that started mid-pandemic and finished in a cloud of economic uncertainty. For many, 2022 felt like a roller coaster as unexpected headlines continuously peppered our news feeds.
Each quarter, business leaders assessed the residual effects of the health crisis and navigated new financial strategies. It wasn't an easy year, but it was one filled with valuable lessons and insights. One thing became increasingly clear: companies rise and fall on the strength of their workforce. And the best way for organizations to reinforce their teams is to build and maintain a strong, vibrant culture.
Every week throughout the year, Culture Matters addressed different issues that companies face and the role of workplace culture as they sought solutions. The following ten 2022 articles reflect the spectrum of culture's impact in today's business world.
1. One Bad Apple: How a Toxic Employee Can Spoil Your Company's Culture
As implausible as it sounds, it only takes one rogue staff member to unravel an organization's culture. Leaders are often dismayed at how fast things can fall apart when someone refuses to conform to company standards. Despite the CEO's efforts to set a great example and instill company values in their team, a non-conformer can trigger a domino effect among the staff.
Showing an underperforming troublemaker the door is an easy decision. But leaders often have a harder time terminating a high producer or someone with a valuable skill set.
This article explores the effects of toxic employees, explains why leaders can't afford to tolerate poor behavior from anyone, and offers eight steps to counter the problem.
2. How to Use Company Culture to Help Underperformers Shine
Sagging performance is another issue plaguing the workplace. The lack of a deep talent pool is one reason companies might be coping with employees who aren't pulling their weight. And over the past several years, leaders even saw reliable workers' output decline as they grappled with pandemic-related issues. Compounding the problem, underperformers are often unaware that they're not up to speed.
Sub-par workers often have what it takes to live up to their potential, but they need a framework to help them succeed. We dissect the problem and offer a practical game plan for leaders to reinforce struggling workers.
3. 5 Traits Define a High-performance Culture. Does your Company Have Them?
Leaders try many methods to bring out the best in their staff, but they don't always work. Incentive programs, appealing perks, and team-building exercises might be popular, but they won't sustain a company's success. The only way to cultivate an ongoing high-performance environment is to build a dynamic work culture.
What does a high-performance work culture look like? We detail five vital characteristics that signify that a championship team is in the house.
4. A Learning-based Company Culture: Your Strategic Asset
When Kraft and Heinz merged in 2015, they had an opportunity to create a new learning and development environment for employees. Four years later, they launched the #LearnLikeAnOwner Challenge across the company. They invited employees to help develop a culture of continuous learning, bold creativity, and intellectual curiosity by:
Seeking out high-impact learning experiences
Committing to a regular learning practice, even if it's just a few minutes a day
Encouraging others to do the same.
While most companies don't have the resources or global workforce of Kraft Heinz, organizations of any size can initiate a culture of learning. And doing so pays big dividends. We delve into a cross-section of educational opportunities that boost employees' expertise and give businesses a competitive advantage.
5. The Great Resignation: What's Driving It and How to Prevent Turnover
The attrition trend labeled "The Great Resignation" started in 2021 and continued to worry employers throughout this year. Countless business leaders who thought they had a grasp on maintaining a steady, productive team found themselves shorthanded and unable to attract the talent they needed.
CEOs were perplexed by the employee churn and tried various tactics to hold on to or attract good workers. For example, they scaled wages and benefits and offered more flexibility if feasible. These measures helped, but they didn't solve the problem.
What many leaders overlooked was employees' reorientation of priorities during the pandemic. As a result, people were no longer willing to work for companies with poor workplace culture—regardless of compensation and perks. We examine what the qualities today's workers want from employers and discuss how to develop them.
6. Micromanage Much? Use Company Culture to Drive Performance Instead
It's not hard to understand why employees have a sour perspective about helicopter bosses. To workers, controlling managers signal that they don't trust them to do their jobs. As a result, they either resent their boss or begin to feel incompetent and second-guess everything they do.
Despite the negative impact, some managers fear their team won't hit their goals if they don't hover. They cling to a command-and-control mode because they believe their job security depends on it. Ironically, it can have the opposite effect.
We peel back the layers of this counterproductive practice, explain why it doesn't work, and show how to systematically dismantle it and generate success.
7. Do You "Think Different?" Encourage Innovation in Your Company Culture
When Peter Drucker urged business leaders to "innovate or die," many took up the mantra by ramping up product design, stage gates, and decision points. These initiatives can lead to breakthrough developments. But even the best ideas and processes won't succeed unless they are activated in a culture that supports innovation.
Companies can only be cutting-edge competitors if they let their employees take risks, explore new directions, and learn from their mistakes. Establishing that kind of latitude requires trust between leaders and workers. A supportive workplace culture can generate that mutual respect and understanding.
We lay out the three core behaviors that build trust and underpin an innovative culture. And we explain why accountability and discipline are integral to a creative environment.
8. Focus on Company Culture to Make the Most of Your Hybrid Workforce
The pandemic forced many businesses to operate with a remote workforce. But after the shock wore off, numerous employers and their staff saw the silver lining in this alternative work model. The flexibility and cost savings benefitted all parties, prompting some organizations to make the arrangement permanent.
But this solution didn't suit every company. For example, certain jobs must be performed on-site, and some organizations need their people under one roof at least part of the time. Consequently, the hybrid workforce became the offshoot of the fully remote arrangement. And while having people split their work week between home solved many problems, new issues arose.
For example, this seemingly ideal solution makes it harder for employees to connect, collaborate, and stay engaged. And it generates added challenges for managers stressed about hitting performance goals. We look at all sides of the issue and review four critical areas companies must prioritize to succeed with a hybrid workforce.
9. Hiring for a Culture Fit and a Culture Add: Why Doing Both Matters
Companies hire people with the right skills and training to fill specific roles. But every employer knows that great employees bring more to the table than technical qualifications. Beyond credentials, they also look for job candidates who can contribute valuable perspectives, demonstrate a high work ethic, and work seamlessly with the existing crew. They want the whole package.
As reasonable as this sounds, companies using these criteria often make critical mistakes when interviewing prospects. As a result, they can wind up hiring people who might blend in but don't add depth to the team, which ultimately limits organizational success. We break down the differences between hiring for a culture fit and a culture add, and why the best employees fill both bills.
10. The High Impact of Company Culture on Mergers and Acquisitions
Mergers and acquisitions can falter for many reasons, but according to Deloitte, insufficient attention to company culture causes a whopping 30 percent of failed integrations. That's why a planned approach to developing and sustaining culture is essential when blending companies.
We dive into why a merger or acquisition provides leaders with a unique opportunity to transform a newly combined organization, design its culture in line with strategic priorities, and ensure its health and performance for years to come.