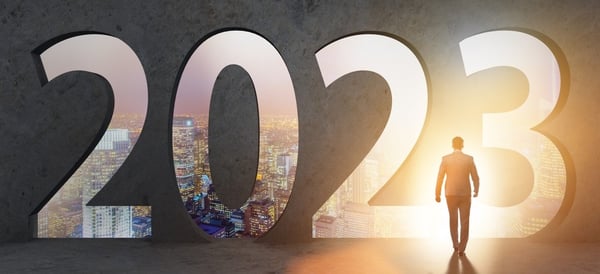 Looking Ahead: What Will Be the Top HR Trends in 2023?
Human Resources is a complicated field, and those who make it their career have many opinions about best practices. But one thing most HR professionals agree on is that they experienced more volatility in their roles in the past two years than ever before.
The unprecedented impact of the pandemic and related after-shocks caused many HR departments to refocus as they managed a battered workforce. They tried numerous new tactics as they navigated uncharted territory and were often left with more questions than answers, such as:
It was a marathon, but by the end of 2022, many HR departments had begun to find footing in an altered work landscape. They were also acutely aware of the need to think and act more proactively. As a result, forward-thinking HR professionals are scanning the horizon to anticipate challenges the new year might have in store.
4 HR Priorities for 2023
In their annual HR Trends and Priorities Report, Gartner surveyed over 800 human resources leaders to determine their area's top leading issues for 2023. Along with an overall concern about the future of work, which requires new big-picture strategies, four shorter-term priorities emerged:
Leader and manager effectiveness
Change management
Employee experience
Recruiting
Grappling with day-to-day workforce issues takes a lot of time and energy. But the most effective HR professionals understand the need to project how these big-picture concepts will shape their organizations.
1. LEADER AND MANAGER EFFECTIVENESS
Gartner reports that leader and manager effectiveness is the top issue for 60 percent of the HR leaders they surveyed. However, they also note that 24 percent believe their approach to leadership development is lacking.
Part of the reason for this disparity is the recently ramped-up workplace evolution. Companies can no longer count on managerial methods that worked in the past, and they haven't had enough time to adapt. For example, command-and-control tactics, once a staple in the workplace, are driving workers away.
Today's forward-thinking leaders recognize the need for a new managerial approach. As they embark on a new year, they are exploring ways people in supervisory positions can better engage and inspire their teams. Many initiatives include establishing more empathy and developing stronger relationships.
Another issue is that managers are frequently promoted to their positions because they are top performers. But demonstrating talent as a worker doesn't always equate to being manager material.
Recognizing the skill gap, some companies are developing a coaching culture to help new managers learn how to lead effectively. After they receive sufficient leadership training, they are positioned to bring out the best in their people.
2. CHANGE MANAGEMENT
In 2016, Gartner's Workforce Change Survey shows 74 percent of workers were willing to modify behaviors to support organizational changes. But that number dropped to 38 percent in 2022. This shift is probably because many employees are tired of the uncertainty lacing almost every aspect of their lives over the past few years and have developed "change fatigue."
But companies must be adaptive and open to change to remain competitive in a constantly evolving marketplace. And to do that successfully, they need a workforce willing to transform with the times. So it's no surprise that over 50 percent of HR professionals believe change management is a high priority for 2023.
In Harvard Business Review's article, "How to Get Your Team on Board with a Major Change," the authors report on the need to rethink change management:
"Most change management has shifted from a simplistic, top-down, 'create a vision, change the structure, roll out the new program, and get buy-in' approach to more emergent, empowered, and purpose-led approaches."
To achieve the goals outlined in the article, company leaders and their HR executives are examining ways to fortify their workplace culture. Many are broadening transparency to explain upcoming changes and why the transitions are necessary. Employees are more likely to embrace change if they feel included in the process.
3. EMPLOYEE EXPERIENCE
One of the biggest drivers of the Great Resignation has been people feeling unfulfilled in their jobs. They want their work to be meaningful and also to provide a path for growth. But in a recent Gartner survey on employee career preferences, only one in four were confident about their career trajectory with their current employer.
Those who feel stagnant in their positions either move on or shift to a quiet quitting mode. It's an expensive problem for companies either way. Consequently, 47 percent of HR leaders are making employees' career experience a top priority in 2023. But many realize the increasing difficulty of enabling growth paths for employees as work experience continues to evolve. Reasons include:
The transition to remote and hybrid teams has made career options less visible.
Many current skills are becoming obsolete, leaving employees unprepared for new responsibilities.
People are less enthused about current job title options as they reevaluate the role work plays in their lives.
As a result, HR teams are huddling to reinvent training and education for their team members. Many are building standard learning components into their organizational culture, including the fortification of soft skills people need to advance their careers.
4. RECRUITING
According to Gartner, 50 percent of organizations are bracing for the talent war to ramp up significantly in the first half of 2023—regardless of economic conditions. At the same time, 36 percent of HR leaders admit that their sourcing strategies are insufficient, and many are planning to recalibrate.
Companies are waking up to the idea that job seekers want more than competitive salaries and benefits. Instead, they're looking for a company whose principles and goals align with theirs and where employees feel valued and respected for what they bring to the table. If a company reflects these qualities, highlighting that culture should be a significant part of its recruiting strategy.
After they bring people on, many companies also struggle with retaining new hires. For example, recruiting.com reports that 25 percent of employee turnover happens in the first 180 days and 20 percent in the first 90 days.
These statistics are prompting many HR leaders to reevaluate their onboarding practices. Building recruits' engagement as they settle into the organization is another opportunity to leverage a strong workplace culture.