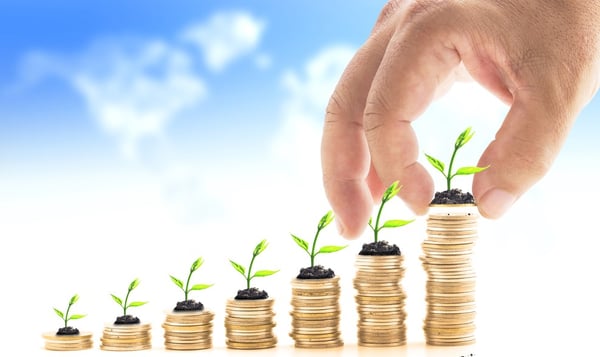 It All Adds Up: The Connection Between Workplace Culture and Profit
People launch companies for multiple reasons. They may want to unleash innovative products and services, fill a niche need, provide more convenience, or enhance their community. But regardless of their various motives and impact, all businesses share a common denominator: they must make a profit to survive.
Consequently, leaders keep an eye on the bottom line, with a focus that ranges from being attentive to losing sleep. And their jitters increase in an unpredictable economy like the one we're experiencing today.
Unfortunately, leaders stressed over sluggish revenue can be short-sighted in their response. As they circle their wagons to protect their companies, they often lose sight of their most valuable asset: their workforce.
These uneasy leaders rely on defensive tactics like paring costs to stay in the black. Meanwhile, they ignore "soft areas" like workplace culture that don't seem immediately relevant. With the best intentions, they may assume their team will feel supported and reap the benefits once they right the boat.
Ironically, these business leaders fail to recognize how strengthening organizational culture can address their financial concerns. But as Ted Kitterman points out in an article for Great Place to Work:
"Profits don't create great workplaces. It's the other way around."
5 Ways Workplace Culture Nourishes Profit
The loose definition of workplace culture is "the way we do things around here." It's comprised of the behavioral norms, prevailing attitudes, and unwritten creeds that dictate how people view their work, collaborate, and provide service. In short, there is no aspect of a business that culture doesn't affect.
When leaders lose sight of culture's impact, they can't leverage its power to overcome the challenges confronting their business. But when they recognize the importance of developing and maintaining a strong workplace culture, they activate the most effective method to drive a profitable enterprise.
Five critical ways a vibrant company culture bolsters the bottom line are:
Improving retention and recruitment
Reducing burnout
Inspiring innovation
Boosting efficiency and productivity
Elevating the customer experience
1. RETENTION AND RECRUITMENT
Weak company culture is a primary reason behind the departure of talented employees. For example, Gallup reports that teams with a poor culture typically experience 18 to 43 percent higher turnover than those with high employee engagement.
Even companies that temporarily resort to layoffs to stay afloat can't afford to lose the people who keep things rolling. Aside from decreased productivity, it's expensive to recruit and train people to fill vital roles. Gallup notes that replacing exiting workers costs one-half to two times the employee's annual salary.
Conversely, companies that prioritize workplace culture create an anchor for high-performing employees. Staff who work in a supportive environment are more loyal to their employer and aren't prone to look elsewhere for work. And Gallup found that it takes more than a 20 percent pay hike to lure employees away from an engaging workplace culture.
Companies with a strong culture still experience attrition due to retiring employees, those shifting careers, or people moving for personal reasons. Fortunately, they have what top recruits desire more than anything else. The most talented job seekers who can be the best profit generators want to work for companies that have built an exceptional workplace culture.
2. REDUCING BURNOUT
Business leaders often drive their teams to work harder to keep their companies profitable, especially in a tight economy. But in a poor environment, the push to put in more effort often has the opposite effect. Workers feel additional pressure to perform without the needed support to help them achieve higher goals. Many burn out as a result, leading to more mental health issues, mistakes, absenteeism, and quiet quitting.
And workplace stress is expensive. Harvard Business Review estimates that the condition has cost the U.S. economy more than $500 billion. And 550 million work days are lost each year due to stress on the job.
Leaders who build burnout-prevention strategies into their organizational culture can flip this script. They do this by:
Incorporating effective measures to address employee wellbeing
Training managers to help team members work more effectively
Promoting positive reinforcement and meaningful acknowledgment
Creating an atmosphere where every employee feels respected and heard
Coaching behaviors that build a supportive community
Companies that demonstrate care and support for their staff cultivate happier, healthier employees who work together to make their organization more successful.
3. INSPIRING INNOVATION
Organizations have to be nimble during periods when it's challenging to rake in profit. They need staff who can adjust, adapt, pivot, and creatively forge new ways to make money. Unfortunately, companies with unhealthy cultures don't inspire this kind of innovation. Their employees often fear making mistakes because they operate in an arena of blame. So when things take a downturn, they huddle and freeze.
Contrast this repressive culture to a solution-focused workplace that promotes intelligent risk-taking. Companies with a culture that inspires innovation:
Steadily get stronger and better because mistakes are seen as learning opportunities instead of reasons to point fingers
Motivate people to think outside the box to solve problems and discover new directions
Help people be more proactive and embrace change and growth
All these qualities better equip organizations to address issues affecting profit. For example, Great Place To Work research shows:
"The highest levels of innovation occur when every employee is empowered to participate. For companies where higher numbers of employees report innovation and inclusion, median year-over-year revenue growth is more than five times higher than companies in the bottom quartile for connecting employees to innovation."
Today's business leaders are more cognizant than ever before that change is the only constant they can expect for their organizations. Leveraging their workplace culture to prepare and mobilize an innovative staff is their best tactic to ensure ongoing profitability.
4. BOOSTING EFFICIENCY AND PRODUCTIVITY
Companies need more than happy, creative people to turn a profit—they need an efficient and productive staff that produces quality output. Along with stimulating employee engagement, strong organizational culture can help staff members do their best work.
A vibrant culture can guide people to develop the soft skills they need to help their company succeed. Organizations that promote continuous learning, development, and improvement are poised to compete more effectively in the marketplace.
Leaders can weave this focus on high work standards into their culture by coaching behaviors that enable people to operate more effectively. Beyond basic job qualifications, mastering these less tangible skills can help workers take their performance to the next level. Such behaviors include:
Sharing information
Paying attention to details
Being organized
Prioritization
Being decisive
Following through on tasks
A workforce that hones these skills becomes a confident, highly trained unit capable of consistent excellence.
5. ELEVATING THE CUSTOMER EXPERIENCE
Ultimately, customers determine a company's profitability. So leaders should understand that a dynamic organizational culture can do more than support, encourage, and develop staff. It can also help them deliver outstanding service. Honing this capability is critical. It only takes one poor service encounter to make a consumer move on or a long-time customer shift to a competitor.
But leaders can use organizational culture as a platform to coach and reinforce behaviors that perfect service delivery. In the long run, customers may forget details about their purchases, but they'll always remember how the service interactions made them feel.
Great customer experiences happen when employees don't just meet but exceed people's expectations. Leaders can leverage culture to help employees stand out to customers by promoting behaviors such as:
Always making a great first impression—and a lasting one
Finding a way to solve problems and not making excuses
Building relationships and relating to clients as people, not transactions
Providing the extra touch to make encounters special
Seeking to understand customers' perspectives to better fill their needs
In addition to sharpening the skills of public-facing team members, a culture that prioritizes service can help internal staff support those who work with customers. As leadership advisor and speaker Izabela Lundberg writes in Forbes:
"Get everyone in the company involved through support initiatives, actively soliciting customer feedback and being willing to adjust accordingly. This reiterates your commitment to team and operational excellence and will allow you to connect with, acquire, and retain customers."
The Bottom Line
No matter how great a company's product or service is, a rival will likely come up with something comparable or even better. And regardless of how much a business lowers its prices to compete, someone will always be there to undercut them. The only thing that can be a lasting differentiator and can't be copied is an organization's unique, powerful culture.
And being able to stand out in the market is what drives profit.
Explore the CultureWise website or schedule a call with one of our specialists to learn more about developing an extraordinary culture that will help your company flourish.
And you can broaden your understanding of workplace culture's impact with a complimentary subscription to Culture Matters. Every week, you'll receive timely articles, thought-provoking videos, and opportunities to participate in webinars and our annual Culture Summit for business leaders.